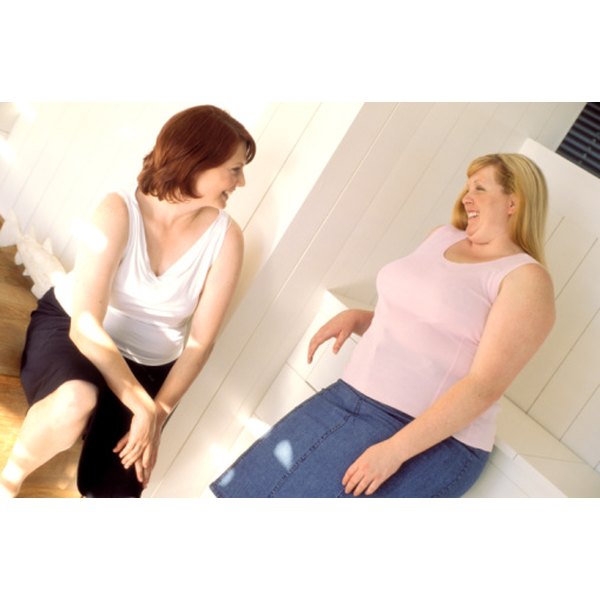 Most people use appetite suppressants to try and lose weight. You can decide whether appetite suppressants are good or bad for you with advice from your health care professional. Over-the-counter appetite suppressants are often not scientifically proven to be safe or effective. Prescription appetite suppressants can be good for morbidly obese patients but are bad for cosmetic weight loss.
Safety
Just because you can buy an appetite suppressant at the store does not mean it's good for you. Some of the ingredients in over-the-counter appetite suppressants may have unknown side effects or react with medications. The U.S. Food and Drug Administration rates each ingredient for safety. Some common supplements that claim to help you suppress you appetite and their safety ratings are: Chromium, likely safe; green tea extract, possibly safe; banned substances ephedra and country mallow, likely unsafe. There is insufficient information for the FDA to decide if hoodia is safe.
Considerations
Some individuals, for medical and practical reasons, should avoid certain types of appetite suppressants. Combining some appetite suppressants with an MAO inhibitor taken within the last 14 days can cause extremely high blood pressure.
Appetite suppressants may cause you to test positive for amphetamines in a urine screening test. It can also cause serious side effects when combined with drugs used during surgery and dental treatment.
From Your Doctor
Prescription appetite suppressants from a doctor are typically prescribed for obese patients with a body mass index of at least 27. With your doctor's approval, some appetite suppressants are good for short-term use. These drugs include phentermine, diethylpropion and phendimetrazine. The U.S. Food and Drug Administration recommends taking these three appetite suppressants for no more than a few months. All three drugs produce common side effects including sleeplessness and nervousness. Additionally, phentermine can cause increased blood pressure and heart rate and diethylpropion can cause dizziness and headache.
Chromium
Chromium is a mineral sold as a dietary supplement to suppress the appetite. The Natural Medicines Comprehensive Database says chromium possibly produces an insignificant amount of weight loss of about 2 pounds over two to three months. The database says, at time of publication, more scientific testing is needed to determine if chromium is a good or bad appetite suppressant. Taking a chromium supplement might be an ineffective way to try and lose weight but when used for six months or less its likely to be safe for most adults.
Hoodia
Hoodia is an herb sold as an over-the-counter appetite suppressant but that does not mean it is good at helping you lose weight. There is no scientific evidence reliable enough to support the use of hoodia as an appetite suppressant according to information from National Center for Alternative and Complementary Medicine.