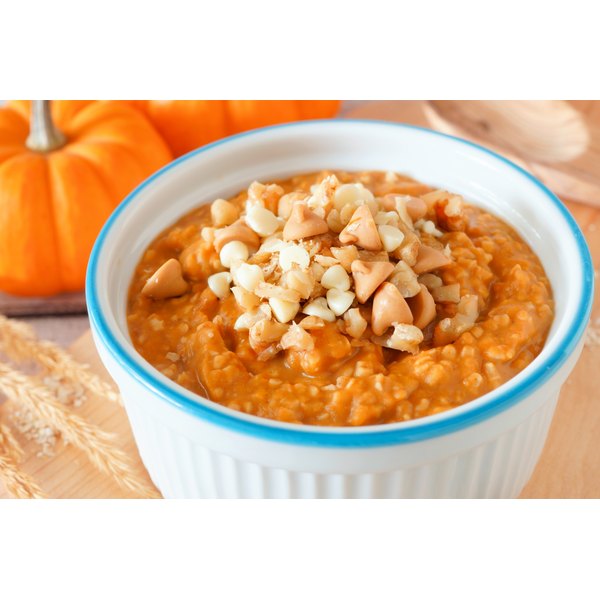 When you're barely able to squeeze time for a sandwich into your busy schedule, eating healthy may not be at the top of your priority list. But eating healthy doesn't have to require a lot of planning and preparation. Instead, stock your fridge with a variety of nutritious foods, and have fun mixing and matching them to create delicious, healthy meals. Talk to your doctor before making any changes in your diet, particularly if you have health conditions or allergies.
Daily Nutrition
Meeting your daily nutrition guidelines is imperative in order to maintain a healthy diet plan. How you combine the guidelines throughout the day is up to you, but the simplest way to ensure that you're making healthy choices is to include fresh fruits and vegetables, lean protein and whole grains in every meal. On average, adults need 2,000 calories per day, with 10 to 35 percent of these calories from protein, 20 to 35 of these calories from fat and 45 to 65 percent of these calories from carbohydrates, according to MayoClinic.com. Limit your saturated fat intake to 7 percent of your daily calories or lower to reduce your risk of heart disease.
Breakfast
If you're running late, you may feel tempted to skip breakfast. But even if you've only got a few minutes to spare, you can create a nutritious breakfast that helps you stay full and satisfied until lunchtime. Boil hot water in a kettle, then add one packet of plain, instant oatmeal and water into a bowl. Cut up your favorite fruit and nuts, and sprinkle them on top. Add a small amount of cinnamon for flavor. Your breakfast is low in calories and saturated fat, but high in protein and whole-grain carbohydrates.
Lunch
For lunch, stay away from cheeseburgers and greasy fries, which are high in saturated fat but low in nutrients. Instead, opt for grilled chicken breast on a whole-grain bun with avocado, sprouts, lettuce and tomatoes. Add a small amount of low-fat cheese or a protein-filled spread like hummus, if desired. You'll be eating great sources of whole-grain carbohydrates, lean protein, and fresh fruits and vegetables all in the same delicious meal.
Dinner
Choose something hot and satisfying for dinner so you won't feel tempted to go into the fridge for a midnight snack. Cook whole-grain pasta with tempeh, a protein-filled fermented soy product, and add lots of brightly colored fruits and vegetables -- like spinach, broccoli, carrots and tomatoes. Add a small drizzle of olive oil and some garlic, then stir until the pasta is coated. Sprinkle a small amount of Parmesan cheese on top, if desired. Even when you're going vegetarian, you can eat a fully balanced meal that's high in protein.