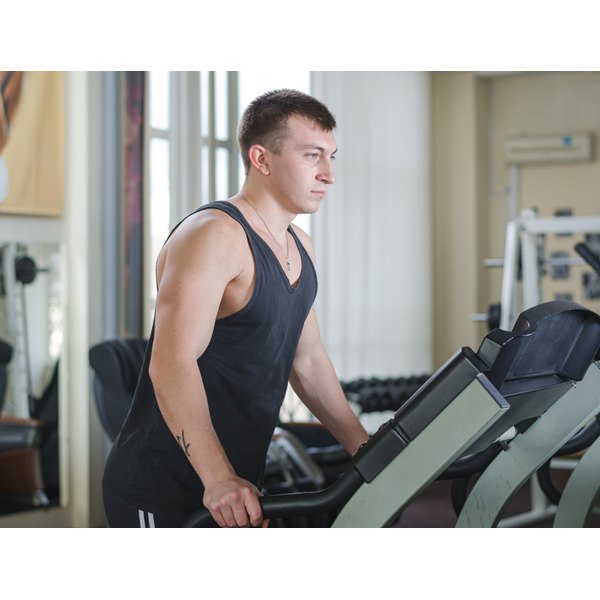 The Weslo Cadence 920 treadmill has a maximum user weight of 250 pounds. Using the Cadence 920 when you weigh over 250 pounds may damage the treadmill, affect your warranty, cause a malfunction or disrupt your workout. When you stay within the guidelines, you can extend the life of your equipment and reduce your chance for injuries.
Respect the Limits
Most treadmills have a maximum weight capacity between 250 and 400 pounds. Although the Weslo treadmill is at the low range of the weight capacities, you need to respect the limits. The weight limit is set according to the motor strength, belt size and deck strength. Some decks are made to support higher weights, but since the Weslo folds for storage, it is made to be mobile. The deck may bow in the middle with repeated over-weight usage.
A Weighty Issue
It is tempting to overlook the 250-pound weight limit, but you risk damaging the motor and belt of the treadmill. The motor might struggle to operate at the selected speed and may not reach your desired pace if you are over the weight limit. The motor may burn out or quit in response. As a result, the belt may drag, speed up or break as it tries to slide along the deck. The belt and the motor are very expensive to replace and not always covered by warranty.
Play It Safe
Protecting your machine from damage is important, but protecting you from injuries is essential. Operating the treadmill when over the weight capacity can cause the motor to stop suddenly. You may fall onto the belt or off the back of the treadmill. The same consequences can happen if the belt breaks. You risk injuries to your knees, hands, ankles and more when you fall onto a moving belt or onto the hard deck.
Margin for Error
As a general rule, stay within 50 pounds of a treadmill's maximum weight capacity. For the Weslo Cadence 920, this means at approximately 200 pounds. Especially if you jog or run, which increases the impact on the belt and the deck. If you exercise on the treadmill and weigh more than 250 pounds, you also risk voiding the warranty. Replacing parts or replacing your treadmill becomes costly and not worth the risk.