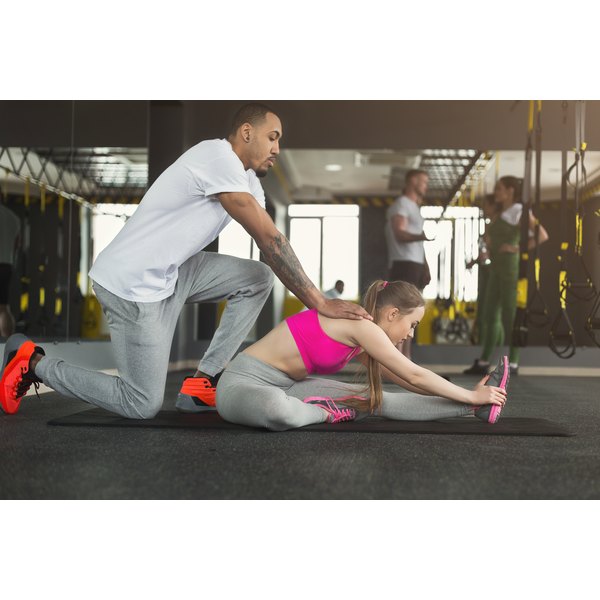 While a personal trainer's job is to whip a client into shape, sometimes it's possible to lose enthusiasm or inspiration for the position. Everyone needs a few tools in their belt that can make working with clients a little bit easier or that can offer up some motivation. If you're on a budget, you might not be sure where to turn for these tools, but it's possible to find free online resources, podcasts and books that can revitalize your enthusiasm.
PAR-Q
Begin your personalized exercise plan by answering a few key questions on a worksheet called PAR-Q. PAR-Q is an acronym for the Physical Activity and Readiness Questionnaire. This printable questionnaire is designed to be answered by the client before the first personal training session. It helps to gauge current levels of activity and explores the client's fitness and weight goals. PAR-Q also highlights any health problems. It asks about pre-existing health conditions such as chest pain, dizziness and skeletal problems.
Templates and Charts
A personal trainer can find a plethora of templates and charts online that can be downloaded, printed and shared with clients. For example, find a workout log and encourage your client to fill it in every session. You can also easily find food logging templates, weekly fitness templates and BMI charts.
Read more: Different Ways to Make Money As a Personal Trainer
Podcasts
Sometimes, you just need to hear some advice or inspiration from your peers. Podcast are free radio-like audio shows that are available on a variety of topics. A personal trainer can listen to podcasts about a variety of fitness topics, as well as other health, wellness and nutrition topics.
A personal trainer looking for resources can also search TED Talks for those about health and fitness. These talks are often available in podcast form, on the TED website or on YouTube.
Exercise Libraries
A complete compendium of exercises using a variety of equipment can be a valuable resource to a personal trainer looking to tailor workouts to a particular client. ACE Fitness and ExRx are two websites that offer free online exercise libraries, which can be sorted by body part, by fitness level or by equipment being used. The libraries feature videos or photos of how to do each exercise.
Marketing Tools
As a personal trainer, it's often up to you to solicit clients. Therefore, you're always in the marketing business, along with the fitness industry. Online, you can find free marketing tools such as newsletter builders, website templates and tips for using social media for getting your name out there.