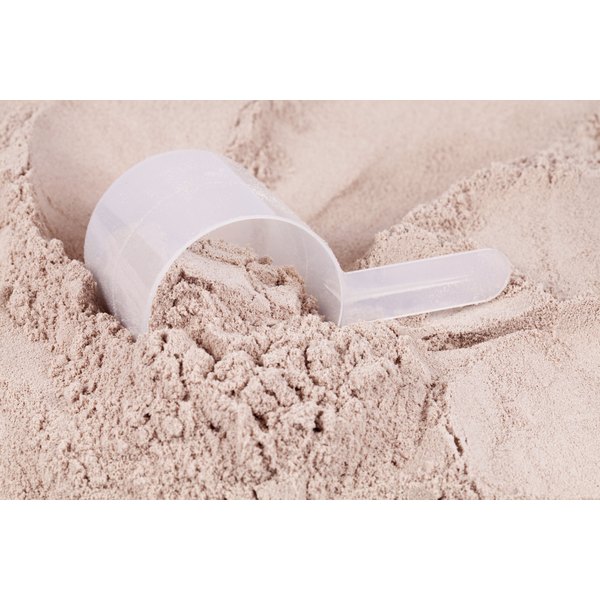 The sheer variety of protein supplements available at health food stores can be overwhelming. A range of tubs of powder with bright, holographic labels and tempting flavors, like cookies and cream and chocolate mint, can make it feel like a dessert shop instead of a health food store. The truth is that protein supplements can be a dieter's best friend, and whey powder is the gold standard, but you must choose wisely, or your double chocolate fudge shake may carry you away from your weight loss goal.
Which Whey?
Whey protein comes from milk, and it can be separated from it in two ways. Once the milk solids are taken to make cheese, the liquid that's left is called whey. When the whey is simply filtered and dried, you get whey protein concentrate, which contains between 29 and 89 percent protein, plus some lactose and fat. If the whey is instead further processed to filter out everything but the protein before drying, you end up with whey protein isolate, with 90 percent protein or more. Whey protein isolate is slightly more expensive than concentrate, but it is a purer form of protein and doesn't include fat and lactose.
Calories
Whey protein comes in two types -- a strict protein supplement and a weight gainer formula. Read the label carefully before you buy. Weight gainer supplements can contain over 2,000 calories per serving, and most are very high in fat. For weight loss, you must look for the opposite product; seek out the lowest-calorie protein supplement you can find. Some brands are as low as 100 calories per serving, but be wary of zero-calorie versions. Pure protein has 4 calories per gram, so the calorie count should be at least four times the protein content if the product is to be trusted.
Macronutrients
Whey protein isolate is best for dieters because it is as strictly protein as you can get. The fat and carb content will be low without sacrificing protein, so you don't have to worry about fitting it into your daily allowances, especially if you're on a high-protein diet. Remember that you'll be mixing the powder with something, which will also add calories, fat and carbs, so the lower the powder content, the better. Protein powder can be mixed with water to avoid adding fat and carbs, but most people prefer to mix it with milk or juice. Remember to add the calories and nutrients in the mixer when you do the mental math.
Taste
A protein powder is only effective if you drink it, so if you hate the taste, you'll eventually skip it. Whey protein comes in the widest variety of flavors of any protein supplement because it is the most common, so try different brands until you find one you like. One brand of strawberries and cream is different from another, so make a list of a few brands to try and buy the smallest tub possible until you find your favorite.