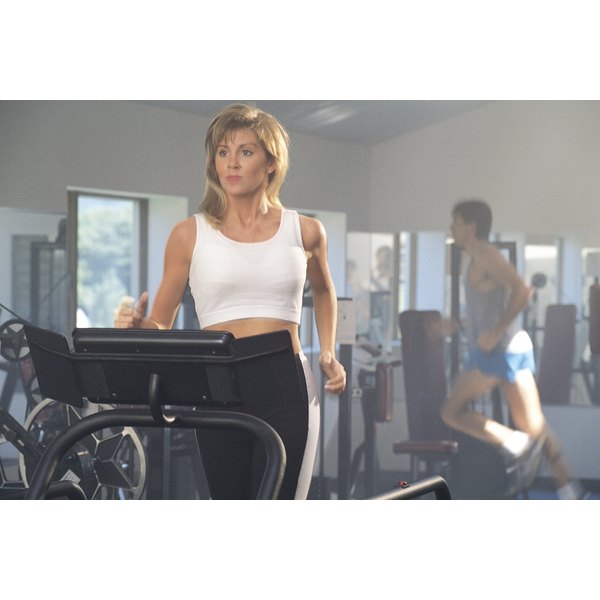 The ProForm 495Pi is an older model residential treadmill. It is a fold-up, motorized treadmill with basic features. It is compact, lightweight and doesn't have a large maximum user weight. Its capacity is 50 to 100 pounds less than ProForm fold-up treadmills available as of March 2011.
Weight Capacity
The ProForm 495Pi weighs 120 pounds and has a user weight capacity of 250 pounds. This is a 2005 treadmill model. As of 2011, ProForm treadmills handle user loads of 300 to 350 pounds, depending on the model. Other manufacturers, such as Sole Fitness, make folding treadmills with a maximum user capacity of up to 400 pounds.
Considerations
In its treadmill buying profile, Treadmill-Ratings-Reviews warns that treadmill manufacturers may overstate their user capacity by 50 to 75 pounds. The site recommends selecting a treadmill that can handle a weight at least 50 pounds more than your current weight. This is especially relevant for runners. The impact on the treadmill when you run is 2 1/2 times your body weight. To use the ProForm 495Pi, if you are a runner, you should not weigh more than 200 pounds.
Other Specifications
The ProForm 495Pi is 69 inches long, 23 inches wide and 32 inches tall. It has a small running area of 18 by 45 inches. Current ProForm treadmills have running areas that are either 20 by 55 inches or 20 by 60 inches. The 495Pi has a 2.25-horsepower motor and can handle speeds up to 10 mph. It also has a power ramp that inclines up to 10 percent.
Features
The ProForm 495Pi has basic features. It has pulse sensors on the handlebars for you to check your heart rate. The LCD shows your speed, time, pace, laps, distance and heart rate. The console has a fan to keep you cool during your workout. Ten speed buttons are located on the console. Press one of these to instantly change the speed of the belt. The 495Pi does not have any built-in workout programs.