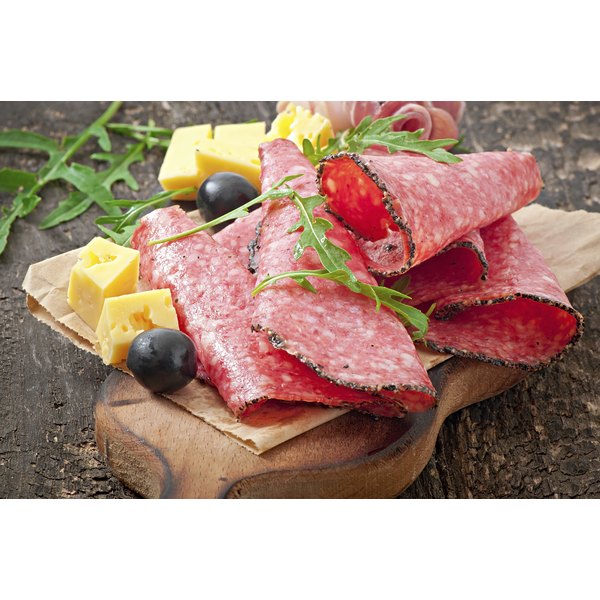 If you aim to lower your sugar consumption, there are many sugar-free snacks that can satisfy your taste buds. Sugar is harmful to people suffering from diabetes, as it raises insulin and blood sugar levels. Sugar has other harmful effects including dental damage, fat retention, poor nutrition and raised triglyceride levels, which can lead to heart attack.
Muenster and Turkey Roll-Ups With Nut Butter
Turkey and cheese roll-ups are quick snacks that can satisfy your salt craving. They are sugar-free and low in carbohydrates, so they make a healthy snack choice for diabetics as well. Place a thin slice of turkey on muenster cheese or Swiss cheese. Spread natural macadamia nut butter on the turkey for flavor and healthy fat and roll it up. This snack provides protein and only contains approximately 90 calories, 6 g fat and 2 g of carbohydrates.
Nut Mix
A mix of nuts provides protein and healthy fats. It is also free of sugar while being filling and more nutritious than popular crunchy snacks like chips. You can make a bag of your own nut mix to bring to work or leave in the car when hunger sneaks up and you want to avoid pulling into the nearest fast food restaurant. Cashews provide your body with potassium, phosphorus, magnesium and vitamin K. If you include pecans to your mix, they supply vitamin A, potassium and phosphorus. Other nut options you can add to your mix include Brazil nuts, pistachios, pine nuts and pumpkin seeds.
Ham and Cream Cheese Wrap
Another snack that is free of sugar is a ham and cream cheese wrap. Spread low-fat cream cheese on a small whole wheat tortilla, place ham and spinach in the tortilla and wrap it up. MayoClinic suggests whole-grains for snacks because they supply sustained energy and fiber. Spinach provides potassium, vitamin A and vitamin K. Ham is a healthy source of protein. This snack is easy to make and can help keep you satisfied until your next meal.
Buffalo Chicken Bites
Chicken is free of sugar and you can make your own buffalo sauce at home that is also sugar-free. Melt trans-fat-free margarine in a saucepan and whisk in pepper sauce. Then cook the mix for 1 to 2 minutes so it slightly thickens. Season skinless, boneless chicken breasts with salt and pepper and cook them until they are browned. Then coat the chicken breasts in your sauce and you have a tasty, sugar-free snack.