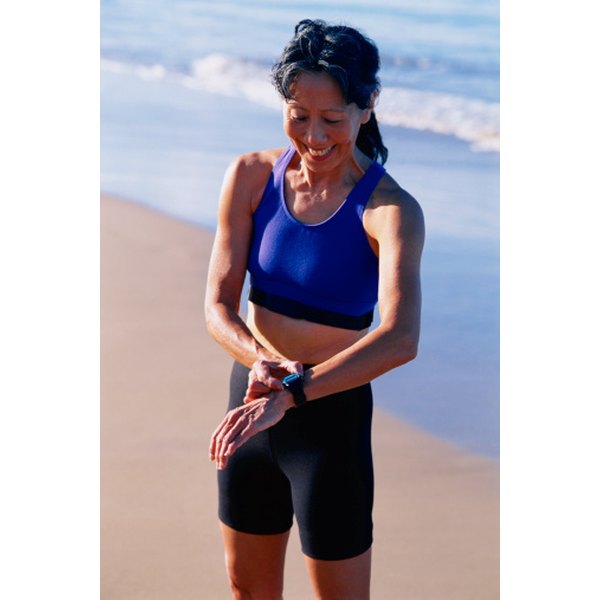 Heart-rate monitors are a great way to stay in a recommended heart-rate range and to track your fitness goals. The most popular types are chest-strap, wristwatch and sports-bra versions ranging in price from $40 to $400. There is no one-size-fits-all answer when it comes to choosing a heart-rate monitor. The best choice depends on what you are most comfortable wearing, which features are most important and what fits your budget.
Multi-Sport Chest Strap Monitors
Chest strap heart-rate monitors allow you to move freely without touching anything to get a reading. Some monitors have GPS, speed and distance recording and zone alerts to let you know when you are over or under your target heart-rate range. They can also be water resistant and come with a bike mount for the display. The only drawback to this type of monitor may be the price of the better ones. The lower-cost models be be lass comfortable and create interference with other wireless monitors in the vicinity.
Wristwatch Style Monitors
Wristwatch styles are great for women who find the chest strap version too cumbersome. Most wristwatch styles work by touching your finger to the screen. These monitors can be slim and colorful, with a feminine style that comes in regular and petite sizes. Some come with features that include calorie counts, exercise time recording, a backlight and a replacement watchband and a user-replaceable battery. While more affordable than chest strap monitors, you do have to stop your activity to take a reading and they're not as accurate over-all.
Best Innovative Monitor
Women of average chest size will love the heart-rate monitoring sports bras and watches that are emerging as the best over-all solution to heart-rate monitoring. It solves the issue of getting the chest-strap to stay put and to fit well with a sports bra by combining the sensor and bra in one garment. Since a bra inherently hugs your chest, it is capable of very accurate heart readings. Sports bra monitors can come in moisture-wicking material and in flattering colors. Polar, Lululemon and NuMetrex are just a few of the companies that offer this innovative choice.
Heart Monitoring Benefits
It's beneficial to use a heart-rate monitor when working out to stay within your minimum and maximum heart rates, track your resting heart rate, rate recovery time and chart your progress. One caveat to keep in mind: Your resting heart rate increases during pregnancy, so if you are expecting, check first with your medical care provider for guidance on appropriate heart rates for your condition while exercising.