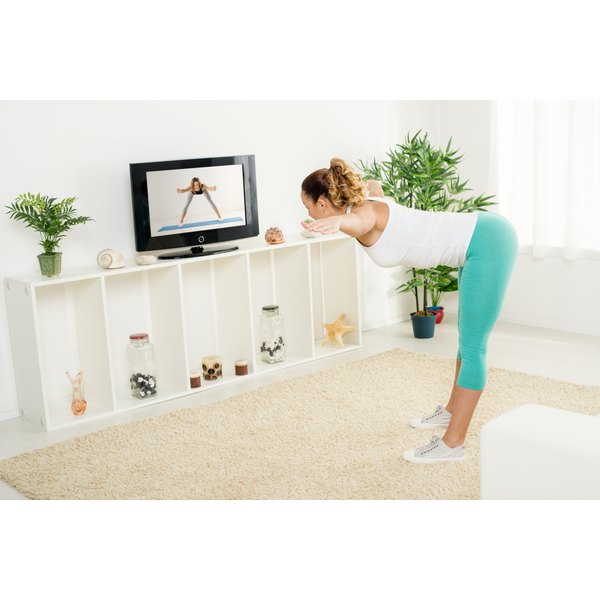 Losing weight takes hard work and hard workouts. If going to the gym doesn't fit in with your budget or schedule, workout DVDs are an option to help you lose weight. The best weight loss DVDs offer varied workouts to hold your interest, a motivated trainer or coach, and a blend of cardiovascular and strength training exercise.
Yoga and Pilates
While yoga and pilates are not traditional calorie-busters, even low-intensity routines meet strength training recommendations to help you lose weight. More intense routines can give you a cardiovascular workout, while maintaining a calming mind-body connection. Choose videos designed for weight loss, like the Dallas Cowboys Cheerleaders Power Squad Bod! Body Slimming Yoga or the Pilates Core Challenge, recommended by Fitness Magazine. Yoga and Pilates shouldn't make up the majority of your weight loss workout routine as they only burn about 200 to 300 calories in an hour long workout. Still, these DVDs can keep you feeling good as you slim down.
Hard Core Cardio
Cardio provides you with the calorie burn you need to get those pounds to melt away. The Centers for Disease Control recommends a minimum of two and one-half hours of moderate intensity activity each week; however, if you're trying to lose pesky pounds, you'll get more benefits if you double that to a full five hours a week. Get your cardio in with fun workouts like the challenging Fat-Burning Kickboxing Workout for Dummies or the Amy Bento: Hi/Lo Xtreme. These two weight loss DVDs will burn off 500 to 700 calories in just an hour of your day.
Full Body Benefits
Choose a DVD that combines cardio and weights or other strength training for an all-in-one workout. Circuit training and boot camp style DVDs get your pulse racing while you work your muscles. If you're ready for a challenge, try the Get Ripped 1,000 with Jari Love DVD and drop 1,000 calories in a 70 minute workout or Jillian Michaels: The Complete Workout for Beginners for a less challenging, but still intense toning and cardio routine.
Dance Your Way Thin
If you normally dislike fitness DVDs or just hate working out, dance inspired routines can hold your interest and keep you moving on your journey to a slimmer body. Dance Off the Inches: Sizzling Salsa is a Fitness Magazine recommended favorite, as is So You Think You Can Dance Get Fit: Cardio Funk. Calories burned with dance videos can vary wildly, depending upon the type of dance and whether you opt for an instructional dance video or a cardio workout with dance steps integrated into the routine.
Tone It Up
Building muscle can keep you strong, help you look toned, and show off your new shape. Integrate toning or strength training exercises in at least twice a week. Try the Gilad Total Body Sculpt Plus: Peak Performance with two different 45 minute workouts or the Exhale Core Fusion series, available in versions to work your abs and arms or thighs and buttocks. Choose a shorter DVD workout if you want to add a strength training segment to your usual workout or a longer one for days when you're focused on strength training.