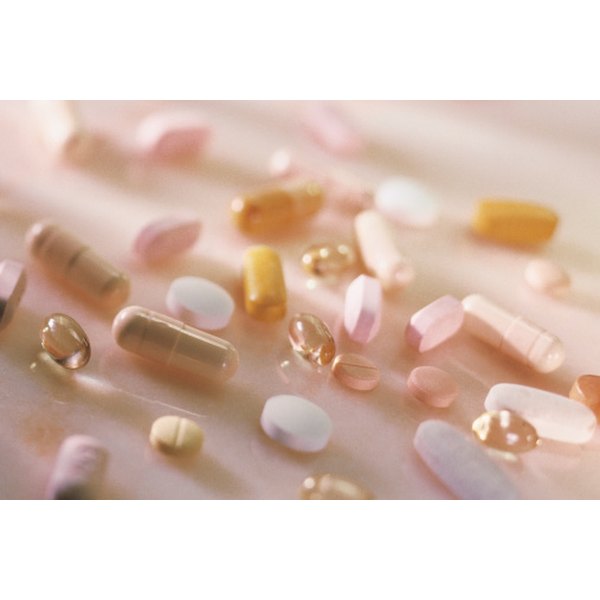 Diet pills are designed to help people lose weight. However, successful dieting not only depends on individuals choosing effective and safe diet pill supplements, but on increasing levels of exercise and making attempts to change poor eating habits and attitudes. There are dozens of diet pills and supplements available. Most diet pills are successful when combined with diet and exercise, as reported by Consumer Reports. The top selling diet pills may or may not provide the results individuals are looking for, leaving consumers to utilize feedback, ratings and effectiveness by word-of-mouth.
LipoFuze
According to Consumer Price Watch, LipoFuze is one of the top sellers when it comes to diet pills. The product claims to contain 10 patented weight loss ingredients and herbs that focus on fat loss, not water weight or muscle mass loss.
Xenadrine EFX
Consumer Search reviewed Xenadrine EFX as one of the most popular weight loss supplements, stating that the FTC found that a clinical trial produced effective results between those who took the supplement and those who took a placebo, with those taking the diet pill losing between 20 and 110 pounds.
72 Hour Slimming Pill
Containing all natural ingredients, this slimming pill claims to be nontoxic and rich in Vitamin B, increasing energy levels. The product claims to help individuals lose between 7 to 15 pounds in three days.
Alli
Alli contains orlistat, which blocks fat absorption into the body. While over-the-counter approval of Alli was offered by the FDA in 2007, making it one of the most popular and highly selling weight loss supplements in the weight loss industry, it has been linked to claims of liver damage.
TrimSpa
TrimSpa is a popular diet pill designed to reduce appetite and increase metabolism when combined with diet and exercise.
Lean System 7
The Minnesota Applied Research Center engaged in studies and clinical trials of these diet pills, whose main ingredient is DHEA, which may have a positive effect on weight loss. The studies may be suspect as they were commissioned and paid for by the pills manufacturer. Lean System 7 products contain bitter orange. The Mayo Clinic and the National Institutes of Health have warned against using it.
Hoodia
The Mayo Clinic states that Hoodia is believed to decrease the appetite but that no conclusive research or studies have been performed to test the claim that it aids in weight loss.
Nuphedragen
Nuphedragen, while rated rather low in safety by Consumer Price Watch, rates high in overall scores by stimulating fat loss through the inhibition of a neuropeptide known as NPY, reducing fat mass. The product also contains synephrine HCL, which is believed to reduce appetite and increase energy and fat burn.
Green Tea Extract
Green tea extract is designed to increase metabolism and reduce the appetite. The extract contains high amounts of caffeine, which help accelerate heart rate and cause a brief energy burst, but the Mayo Clinic states that limited evidence is available to determine its effectiveness in weight loss.
Ephedra
Ephedra has been popular and relatively inexpensive as an appetite depressant, but it was banned in the U.S. because of concerns over long-term health of users. However, ephedra can still be found in many weight loss supplements through the Internet.