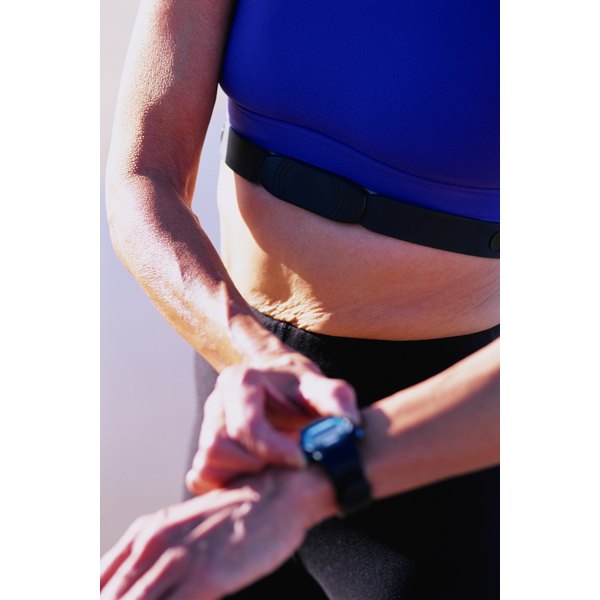 Strapping on a heart rate monitor for your bike ride gives you insight into what's happening internally. This information can help you to maximize your workout, stay within a safe exertion range and even design personal programs. Also, according to Bike Radar, cycling with a heart rate monitor will help you stay in the target intensity zone for reaching your goals, whether its to increase endurance or help you lose weight.
BHip 9
Bike Radar lists this model in its highest reviewed spot for biking heart rate monitors for its affordability and simplicity. You can set high and low heart rate limits, and the device will flash arrows and beep when you don't stay in the optimal zone you've specified. You can turn the beeper on and off according to preference. This model also stores heart rate data from your previous ride for comparison.
Garmin Forerunner 310XT
A bright and stylish option presented by Bike Radar, this wrist heart rate monitor can transfer all of your ride data onto your computer using a wireless USB stick, allowing you to analyze it with the Garmin Training Center Software. This device supports five heart rate zones to keep you in your target range for your entire ride.
Polar FT60
Best for serious athletes, the FT60 is sophisticated enough as a virtual trainer to work with you to create your workout program, according to Consumer Search. The feature, called Star Training, suggests a weekly workout routine based on information you've input on fitness and activity levels and training goals, such as losing weight or maximizing performance. The feature also evaluates each session and your weekly performance.
Sigma PC-15
Another favorite of Bike Radar, the Sigma PC-15 features a graphic to give you a visual of your intensity, next to the heart-rate figure, as well as the amount of time and percentage of the session spent in each zone. The watch also shows the average and maximum heart rate as well as the number of calories you've burned.
Suunto M4
This sports watch works as both a heart rate monitor and personal trainer. You'll start with a basic fitness test in order to configure the data into a personalized fitness plan. The watch will also track the speed and distance of your ride. Bike Radar calls this model an ideal choice for a beginner or intermediate cyclists.