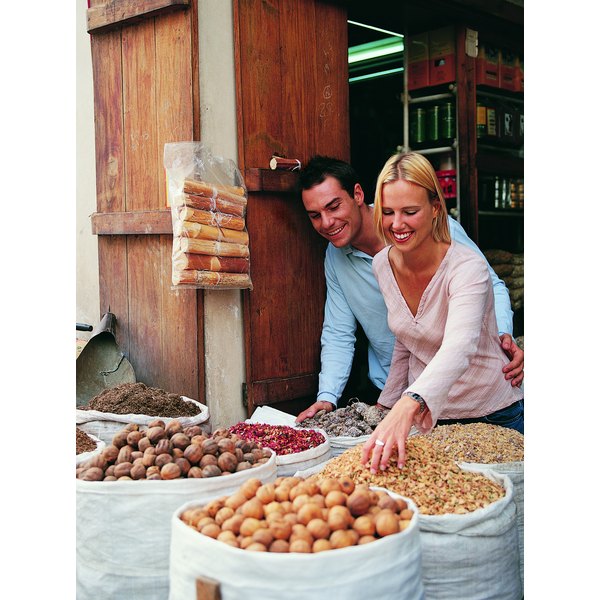 Many people snack on a handful of nuts from time to time, or add them to savory dishes. Nuts may have health benefits for your heart, and they are very nutritious. However, they are also a common allergen. Because of this, some women worry about the possible effects of consuming nuts during pregnancy.
Nutrition
Nuts contain a number of nutrients that are especially important during pregnancy, including protein, vitamin E, thiamine, niacin, vitamin B6, folic acid and zinc. Although nuts are high in fat, they contain mainly healthy unsaturated fats, rather than saturated fats. Pregnant women should consume at least 5 ounces of protein foods daily. Each ounce of nuts counts as 2 ounces of protein, under USDA ChooseMyPlate guidelines.
Health Benefits
Nuts are healthy for your heart. They may help to lower your cholesterol, improve the function of your blood vessels, lower your heart-disease risk and help prevent abnormal heart rhythms, according to the Harvard Medical School. Nuts are also filling, due to the protein and fiber they contain, which may help you keep from gaining too much weight during pregnancy.
Considerations
Eating nuts during pregnancy may increase the risk of your child being allergic to nuts or developing asthma. Children with milk or egg allergies whose mothers ate peanuts during pregnancy are more likely to be allergic to peanuts as well, notes a study published in the October 2010 "Journal of Allergy and Clinical Immunology." If you consume nuts daily during your pregnancy, the risk of your child developing asthma is higher than if you rarely or never consume nuts during pregnancy, according to a study published in the "American Journal of Respiratory and Critical Care Medicine" in July 2008.
Recommendations
There isn't enough evidence to recommend that all pregnant women avoid eating nuts, according to Saskia Willers, the lead researcher on the asthma study. However, if there is a history of allergies or asthma in your family, you may want to avoid eating nuts while you are pregnant, since your baby already has an increased risk for those conditions.