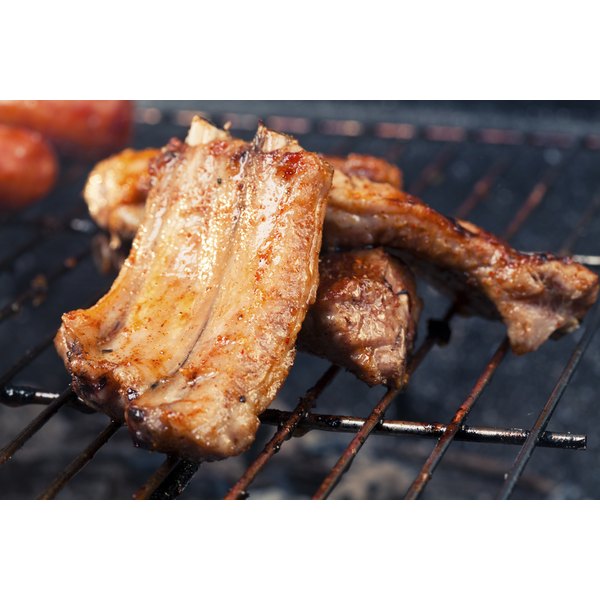 Eating healthy at barbecue restaurants like Armadillo Willy's can be difficult, but there are some options that are lower in fat and calories than others. Unfortunately, Armadillo Willy's doesn't post nutrition information on its website, making it hard for the average person to figure out which are the most nutritious choices.
Soups and Salads
Start your meal off with a filling, but lower-calorie choice, such as the chicken tortilla soup or a little green salad with the dressing on the side. Any of the full-sized salads are among the better choices for meals as well, as long as you get the dressing on the side so you can control how much ends up on your salad. The Chinatown chicken salad may be the best of these, as it doesn't contain the bacon and cheese found in most of the other salad options.
Barbecue Plates
Skip the Texas barbecue plates and family-style platters, as they're all very large and loaded with fat and calories. Even the half chicken isn't typically a good choice at barbecue restaurants because of the large amount of dark meat and skin found in such a large portion. Instead, choose a small barbecue plate. These offer more reasonable portions for one person. Baby back ribs tend to be a better choice than spareribs or regular ribs. The salt & pepper turkey is also one of the better options.
Sandwiches and Sides
Another relatively good choice is a pulled pork or smoked turkey sandwich. This lets you get a taste of barbecue without an overly large portion size. Stay away from the burgers, however, and the signature barbecue sandwiches, as these tend to be higher in fat and calories. The blackened salmon burger and the plain flat iron hamburger are among the better choices for burgers, however.
As for sides, the little green salad with dressing on the side is the best option, but the Texas corn salad is also a relatively low-calorie choice. The potato salad, tator tots, onion rings, all of the fries and the cornbread muffin are among the higher-calorie choices.
Desserts and Beverages
It's best to skip dessert or share it with a friend, as most dessert options are high in calories and fat. The cookies are probably a better bet nutritionally than the root beer float if you do decide to have dessert. Stick with water or other low-calorie beverages, like unsweetened ice tea, and avoid alcohol and sugar-sweetened beverages, such as regular soda, which are high in calories but don't provide any essential nutrients.