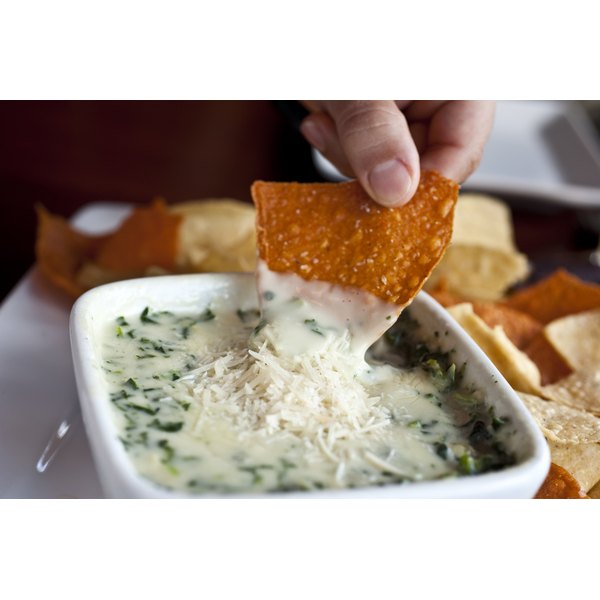 Cheddar's has a menu that includes handmade entrees and from-scratch recipes. While that can certainly sound like you're making a healthy eating decision, that's not always the case. Cheddar's does have a limited menu with light food options, but most of its fare is high in calories, fat and sodium. Have a dessert, and your meal will also be quite high in sugar. Knowing what to look for, however, will enable you to choose the most nutritious meal possible while dining at Cheddar's, especially since the restaurant doesn't publish exact nutrition information.
Starters, Soups and Salads
Ordering an appetizer adds calories, fat and sodium to your overall meal total, and too much saturated fat and sodium can increase your risk of heart disease. The loaded nacho dip, fried chicken tenders and onion rings, are quite high in saturated fat and sodium, which makes them an unhealthy start to your meal. You might consider a cup of broth-based soup or an order of fiber-rich edamame as an appetizer. The salads at Cheddar's contain greens, which are a good source of vitamin A and fiber, but they also contain unhealthy ingredients such as bacon, fried won ton strips and fried chicken. Ask to have these removed and order the salad with the dressing on the side.
Burgers and Other Sandwiches
Burgers are a good source of protein and iron, but they can also be high in saturated fat. Toppings like pickles and barbecue sauce on a Cheddar's burger drive up the sodium content. Order a plain burger without cheese and have it topped with lettuce, tomatoes and onions, which add nutrients. A grilled chicken sandwich is another healthier option, but pass on the Buffalo chicken wrap, which includes fried chicken smothered in salty sauce. Replace the fries with a healthy side dish, such as green beans, apples or baby carrots.
Meat and Seafood
The meat and seafood entrees at Cheddar's are large enough to share among two or three people, which the American Heart Association recommends as a healthy way to eat out. For example, you can order a 6, 8 or 12-ounce steak, each of which is more than the 3 ounces recommended for a serving of meat. This means that you'll eat more fat and calories than what's considered healthy. The same goes for the full rack of ribs. Skip fried meats and have the citrus soy salmon, lemon pepper catfish or grilled chicken instead.
Drinks and Desserts
Water, black coffee or unsweetened iced tea are calorie and fat-free beverages, and ordering one of these is a good way to keep your meal as healthy as possible. Pass on sugary soda, sweet tea and the large flavored cocktails, such as margaritas, because these are loaded with calories. A glass of wine contains calories, as well, but it's a better option if you want a cocktail. Cheddar's desserts are large enough to share, but you'll still eat a large amount of calories, fat and sugar when you have a sweet treat. Too much sugar can lead to weight gain, which increases your risk of heart disease and Type 2 diabetes.