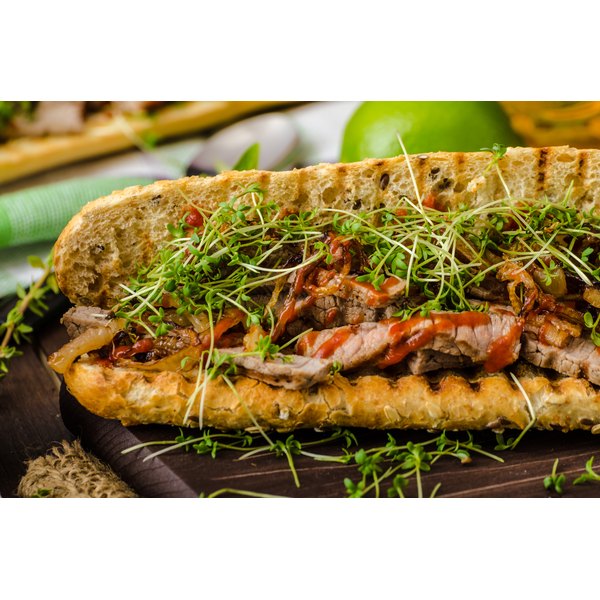 Texadelphia is a chain restaurant that specializes in cheesesteaks. It has locations throughout Texas and one in Oklahoma City. Like most chain restaurants, it isn't necessarily diet-friendly. Knowing the estimated nutrition content, however, provides guidance when eating out so that you avoid overindulging. Menus for each location may vary slightly, but all locations feature the chain's signature cheesesteaks, deli sandwiches and salads. Some, but not all, locations have wraps, and the types of wraps may vary.
Tip
One serving of Texadelphia is reported to have 700 Calories, according to the nutrition facts provided by livestrong.com.
Signature Cheesesteaks
Texadelphia is known for its cheesesteaks, and while some contain a moderate number of calories, others may contain close to 1,000 calories. A lower-calorie option is the chicken cheesesteak, which contains 410 calories, 14 grams of fat, 29 grams of protein and 39 grams of carbohydrates. Another option is the beef cheesesteak, which contains approximately 510 calories, 8.4 grams of fat, 41 grams of protein and close to 48 grams of carbs.
Salad Options
At many chain restaurants, salads may contain as many or more calories as an entree. In addition, some salads are designed to be eaten as an entree. If you plan to have a salad as a starter before your entree, divide it in half and save the remainder for later. Try the chicken cheesesteak salad. One serving contains 310 calories, 14 grams of fat, 29 grams of protein and 39 grams of carbohydrates. The grilled chicken breast salad is an even better option, coming in at 210 calories, 8 grams of fat, 15 grams of carbs and 24 grams of protein.
Deli Sandwiches
The deli sandwiches at Texadelphia come in at close to 500 calories. Your best bet, especially if you plan to have a side item with it, is to share with someone or save half for later. Of the sandwiches, the smoked turkey on wheat and the veggie are good choices. The smoked turkey contains 448 calories, around 22 grams of fat, 33 grams of protein and 25 grams of carbs. The veggie sandwich comes in at 400 calories, 18 grams of fat, 42 grams of carbs and 12 grams of protein.
Calorie-Conscious Wraps
Certain locations offer wraps, which are good option if you are following a lower-carbohydrate diet or looking to minimize your calorie intake when eating out. The wraps typically range between 180 and 310 calories. The lowest-calorie option is the grilled chicken breast wrap, which contains 180 calories, 12 grams of carbs, 6 grams of fat and 18 grams of protein. Another low-calorie option is the smoked turkey wrap, which contains 250 calories, 12 grams of carbs, 9 grams of fat and 22 grams of protein.