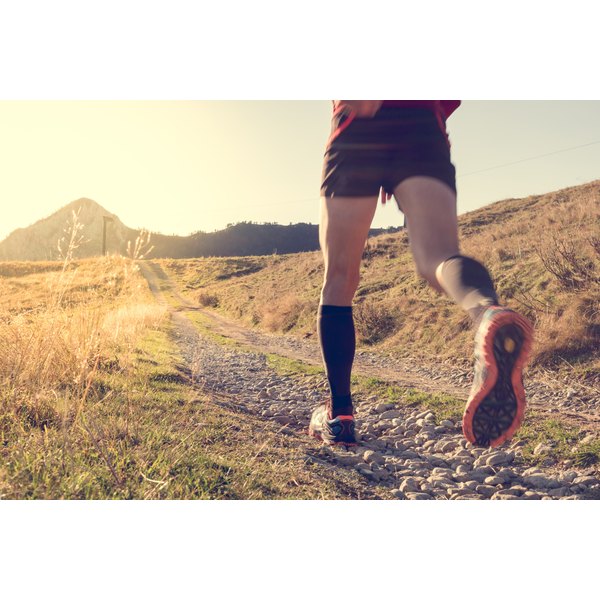 If you need to burn off a quick 100 calories, you have plenty of options as to how to do it. You can walk, run, jump rope, do aerobics, wash your car or do yard work, just to name a few. Knowing that you won't have to spend much time on an activity to burn 100 calories just might be the motivation you need to get up and moving.
Considerations
The activities and times given here are for a person weighing approximately 155 to 160 lbs. If you weigh more, you'll burn more calories than the amount listed, and if you weigh less, you'll burn fewer calories. The level of intensity at which you perform the activity also affects the number of calories you burn. Use the guidelines as an estimate and make adjustments for your specific weight and level of activity.
Burn 100 Calories in 10 Minutes or Less
If you're on a tight schedule, you can still find time to burn 100 calories. Running at a speed of 8 miles per hour for six minutes or jumping rope for about nine minutes should accomplish your goal. You can also spend about 10 minutes doing high-impact step aerobics to burn 100 calories.
Burn 100 Calories in 12 to 18 Minutes
Doing aerobics is another activity that will help you burn 100 calories quickly. Do high impact aerobics for 12 minutes or low impact for 17 minutes. Swimming laps for about 12 minutes also burns 100 calories. If you enjoy doing yard work, you can burn 100 calories while keeping your lawn in shape. Pull weeds for approximately 17 minutes, dig or spade dirt for 16 minutes, or mow the lawn with a push power mower for 18 minutes to burn 100 calories. You can also wash your car or do heavy cleaning for 18 minutes.
Burn 100 Calories in 20 to 30 Minutes
If you prefer to do a less vigorous activity to burn 100 calories, you can still get it done in 30 minutes or less. Activities that burn 100 calories in 20 minutes include bicycling at a speed less than 10 miles per hour, doing light gardening, raking leaves, and bagging leaves or grass. You can burn 100 calories in 30 minutes by walking at a speed of 2.5 miles per hour or by doing general weight lifting.