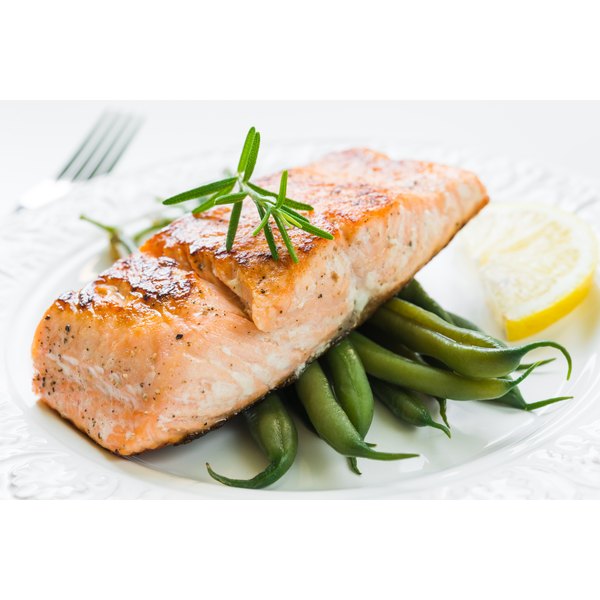 If you are wondering about serving sizes, MyPyramid.gov provides recommendations for portions as well as the number of servings to eat daily from each food group. MyPyramid incorporates the Dietary Guidelines for Americans, Dietary Reference Intakes and U.S. food consumption patterns and translates these into a total diet designed to meet nutrient needs. The serving sizes you eat are important but need to be looked at in the context of your total daily intake. Recommended daily servings from each group vary based on your age, sex and activity level.
Grains
Adults need five to eight daily servings of grains. The Dietary Guidelines for Americans recommend consuming three or more -- or at least half of daily servings -- as whole grains so you meet your needs for fiber and other nutrients, decrease risk for heart disease and diabetes, and help with weight maintenance. Examples of grain servings are: 1/2 cup brown rice, pasta or oatmeal; 1 cup whole-wheat cereal flakes, cornflakes or white rice; one slice whole wheat bread; five whole-wheat crackers; seven saltines; 3 cups popcorn; a 2 1/2-inch square of cornbread; or an 8-inch tortilla.
Vegetables
Eat 2 to 3 cups of vegetables daily. The serving size is 1 cup for most raw or cooked vegetables -- cabbage, cauliflower, celery, cucumbers, bell peppers, broccoli, carrots, corn, dry peas and beans, green peas, cooked greens, mushrooms, onions, tomatoes, summer squash, zucchini, pumpkin, white potato or winter squash. Other serving sizes include 1 cup vegetable juice, a large baked sweet potato, a medium white potato or 2 cups raw leafy greens. MyPyramid and the Dietary Guidelines recommend including 3 cups weekly of dark green vegetables, 2 cups weekly of orange vegetables and 3 cups weekly of dry peas or beans; limit starchy vegetables -- green peas, corn or white potatoes -- to 3 cups weekly.
Fruits
Include 1 1/2 to 2 cups of fruit daily. In general, the serving size for fruit is 1 cup fresh, frozen or canned fruit or 100 percent fruit juice; 1/2 cup dried fruit -- such as raisins, prunes or dried apricots -- counts as 1 cup fruit. Some serving sizes for specific fruits are: one small or half of a large apple; a large banana, orange or peach; 32 grapes; one medium grapefruit or pear; three medium or two large plums; or eight large strawberries. MyPyramid recommends keeping juice intake to no more than half of your daily fruit servings because it does not provide the fiber that whole fruit does.
Milk
You should have 3 cups milk or other high-calcium dairy products daily. Examples include 1 cup milk, yogurt, or pudding made with milk or frozen yogurt; 1 1/2 oz. natural cheese, such as cheddar, mozzarella, Swiss or Parmesan; 2 oz. processed cheese; 1/3 cup shredded cheese; 1/2 cup ricotta; or 1 1/2 cup ice cream. Choose fat-free or 1 percent dairy products to keep intake of saturated fat and cholesterol low.
Meat and Beans
The meat and beans group includes meat, poultry, fish, dry beans, eggs and nuts. Adults need 5 to 6 1/2 oz. equivalents daily. Examples of 1 oz. equivalents include: 1 oz. cooked lean beef, pork, ham, chicken or turkey without skin, fish or shellfish, or tempeh; one egg; 1/2 oz. nuts or seeds; 1 tbsp. peanut or almond butter; 1/4 cup cooked dry beans or peas, tofu or roasted soybeans; or 2 tbsp. hummus. MyPyramid recommends choosing foods rich in omega-3, fish like salmon, trout and herring as well as considering legumes as an alternative to meat or poultry.
Oils
MyPyramid focuses on oils or fats from heart-healthy monounsaturated and polyunsaturated fatty acids. Adults should keep intake from this group to 5 to 7 tsp. daily. A 1 tbsp. serving of vegetable oil or 1 oz. nuts equals 3 tsp. from the daily servings; 1 tbsp. soft margarine or mayonnaise or 2 tbsp. thousand island dressing equals 2 1/2 tsp.; 2 tbsp. Italian dressings equals 2 tsp.; and 2 tbsp. peanut butter equals 4 tsp. Limit solid fats, partially hydrogenated vegetable oils and trans fats. Read food label Nutrition Facts panels for additional serving size information and ingredients lists for hydrogenated fat.