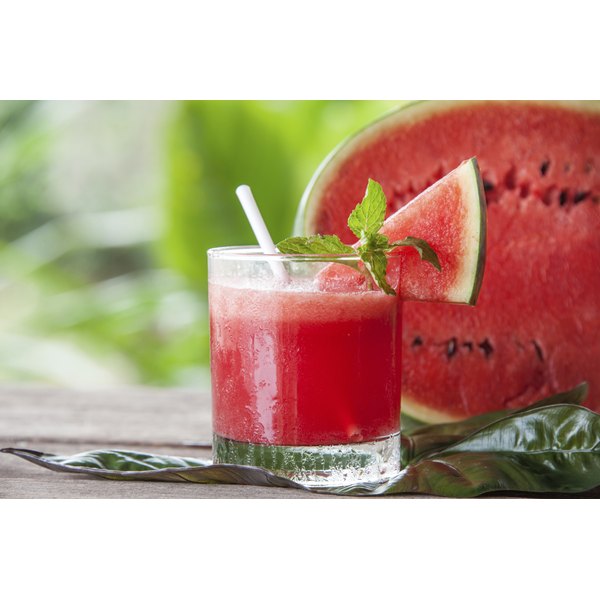 Bariatric surgery reduces the size of the stomach to facilitate weight loss. For the best results after this procedure and to prevent unwanted side-effects such as nausea, vomiting and rapid bowel evacuation, also known as dumping syndrome, it is important to follow a strict post-surgery diet. The Duke University Health System recommends specific nutrition care after having bariatric surgery, but it is important to discuss your personal nutrition care with your bariatric surgery team.
Stage 1: Liquid Diet
For the first 14 days after surgery, DukeHealth.org recommends that your diet consist of liquid protein shakes and fluids. Because you are still healing from surgery, you need to get enough protein (50 to 60 grams) to support the healing process. Protein shakes should have 200 calories, at least 15 grams of protein and no more than 10 grams of sugar. Drink about 24 ounces of your protein shakes every day. You can split them into six small servings of 4 ounces each. Sip slowly; it should take half an hour to drink 4 ounces of any liquid. Drink at least 48 ounces of other fluids throughout the day, including water, noncarbonated flavored waters, diet gelatin and beef or chicken broth.
Stage 2: Soft Foods
During the next two to three weeks, your foods should be moist and easy to chew and swallow. It is still important to consume 50 to 60 grams of protein per day, so your food choices should be high in protein, states DukeHealth.org. Choose 2 to 4 tablespoons of high-protein choices three times a day. Examples include low-fat cheese, scrambled eggs, beans, peanut butter, couscous and Greek yogurt. During this stage, you begin your chewable multivitamins and calcium as prescribed by your physician or dietitian. Slowly eat three meals per day; meals should last 20 to 30 minutes. Do not drink for 30 to 45 minutes before and after meals, and do not drink with your meals. Choose high-protein liquids between meals to meet your protein goals.
Stage 3: Pureed Foods
Your diet during weeks four through eight after surgery should include 1 to 2 ounces of protein and 2 to 3 tablespoons of fruit or vegetable during meals, reports DukeHealth.org. Protein choices include finely chopped chicken, turkey, fish or egg, tuna or chicken salad, along with choices from Stage 2. Fruits and vegetables should be canned and mashed or pureed. Continue to drink 48 to 64 ounces per day between meals, withholding liquids for 30 to 45 minutes before and after meals.
Stage 4: Stabilization Diet
At week eight, you may begin to transition to the stabilization diet. Continue with three meals per day, but don't eat and drink at the same time. DukeHealth.org reports that it is important to continue to get 50 to 60 grams of protein daily. Transition to baked, broiled seafood, chicken and turkey. Slowly add fresh and frozen vegetables, salads and whole grains to your diet. As you add new foods to your diet, there is a possibility that some foods may never be tolerated. These foods include, but are not limited to, rice, pasta, soft breads, beef or pork; any of these may cause nausea, vomiting or dumping syndrome. If you experience vomiting after eating, diarrhea or fatigue, contact your physician or dietitian.