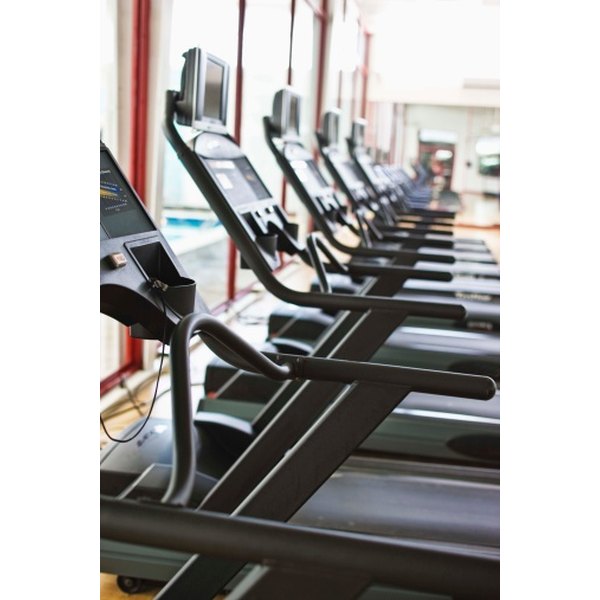 Treadmill exercise is indoor walking. Walking is one of the easiest exercises to perform as most people walk every day. When beginning a weight loss program, you may enjoy using a treadmill in the privacy of your own home, or at your local health club. If you weigh close to 400 lbs., you require a treadmill that will support your weight and provide you with a comfortable, yet challenging workout.
Cybex
Cybex International produces a commercial grade treadmill the 750T. The 750T has a 6.0 HP motor, ranges in speed from .5 to 15.6 miles per hour and has a grade of -3 percent to 15 percent. The 750T will support body weights up to 400 lbs. The deck of this treadmill is designed to provide a soft landing, harder in the middle and a rigid toe push to mimic walking on ground and protect your back.
Nordic Track
The Nordic Track S3000 treadmill has a 5.0 HP motor with speeds up to 12 miles per hour and a 12 percent incline. The S3000 will support body weights of up to 400 lbs. The belt on the S3000 is 20 inches by 60 inches and is designed to accommodate longer walking strides. The deck on the S3000 is cushioned to protect your ankles, knees and hips from the impact of walking or running.
Star Trac
Star Trac's E-TR Treadmill comes with a 5.0 HP motor that will allow you to run at speeds up to 15 mph and at a 15 percent incline. The E-TR will support body weights of up to 500 lbs. The belt measures 20 inches by 60 inches for maximum stride comfort and you will be able to power your iPod through the USB connection on the treadmill.
Quinton
Quinton treadmills are usually seen in cardiac rehabilitation or hospital stress testing settings, but you may also find one at your health club. A Quinton CR60 ranges in speed from 0.6 to 12 miles per hour and increases to an incline of 15 percent. A CR60 will support body weights of up to 400 pounds and uses a 20-inch by 60-inch belt for walking stride comfort. The deck has a triple shock system for additional comfort during your workout.