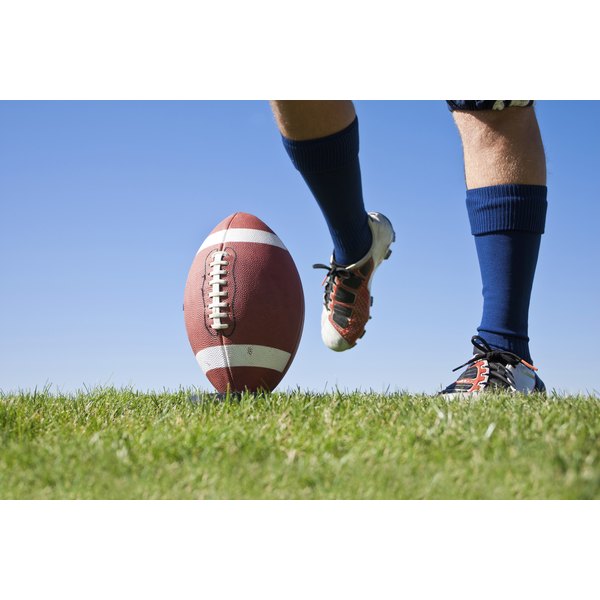 The sphere of football cleats is in constant flux, with new materials and manufacturing technologies emerging every few years. Hundreds of models saturated the market each year, with each brand claiming to offer special advantages over the others. This article offers a look at five of the shoes with the highest post-consumer ratings, and compares key features like sole composition, cut level and mold type. Based on consumer reviews, these four models have the highest value of any football cleats on the market.
Adidas AdiZero 5-Star 2.0
The AdiZero 5-Star 2.0 made waves in 2011 when the 7.4 oz shoe briefly held the title of the world's lightest football cleat.This super-light thethermoplastic polyurethane (TPU)-based shoe features molded (non-detachable) spikes that are rounded with the intention of increasing their linear traction (push-off) while limiting rotational traction (turning resistance). True to its title, several styles of this shoe earned a five-star consumer rating from Dick's Sporting Goods. While EastBay.com users gave it four stars, Sneaker Report awarded the sophomore version of AdiZero the number five slot in its football cleat countdown. The Adidas website shows a perfect consumer rating for this shoe.
Under Armour Highlight MC
This molded cleat is a high-top model, which provides the extra ankle support often sought by linemen or players with a history of ankle injuries. Even with these ankle guards, Under Armour maintains that the Highlight, which weighs a mere 10.4 ounces, still pushes the edges in speed and flexibility (See Reference 9). While Sneaker Report listed it in the number two slot for best football cleats, the Highlight garnered four stars from EastBay customers and five stars from buyers on the Dick's Sporting Goods website. Consumers on Under Armour's website gave the Highlight a 4-star rating.
Nike Alpha Pro
The Alpha Pro is a 12-stud molded cleat that comes in the mid-cut design, and sports an ultra-light TPU-based outsole. This shoe weighs a skimpy 11.8 oz., in part thanks to the foot-hugging nylon fibers in the upper that comprise Nike's minimalist Flywire technology. The Alpha Pro scored four stars from Dick's Sporting Goods and five from from EastBay.com, and landed the number seven spot on Sneaker Report's best football cleats list. Customers on Nike's website gave the Alpha Pro a 4.4-star rating.
Nike Vapor Carbon Fly 2
Nike's "Zoom Vapor Carbon Fly 2" is a mouthful to say the least. These super-light, 10.4 oz cleats are constructed with a carbon fiber outsole and a phylon insole designed to protect the foot from impact. The Carbon Fly is available as either detachable or "TD". Flywire design uses a minimal amount of synthetic fibers to hold the foot in place, cutting down on weight (See Reference 6). This cleat earned a four star rating from buyers on EastBay.com and Dick's Sporting Goods and garnered Sneaker Report's number one spot for football cleats. Nike reports a 4.1 star rating for buyers of these cleats,