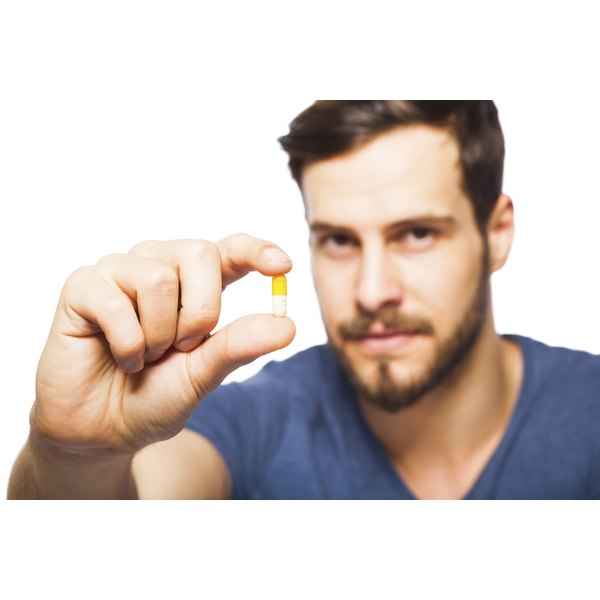 Thermogenic fat burners help to increase your metabolic rate, burn calories and lose weight. These supplements differ from other weight management products, such as fat blockers, in that they typically contain stimulants, such as caffeine. Men's thermogenic fat burners may also include ingredients that enhance testosterone, the hormone involved in metabolism.
BPI Sports RoxyLean ECA
The thermogenic fat loss burner BPI Sports RoxyLean ECA, contains multiple stimulants, including caffeine and 1,3 dimethylamylamine, also known as geranium extract. According to research reported in the May 2006 issue of the "Journal of Agricultural and Food Chemistry," BPI Sports RoxyLean ECA contains herbal extracts, such as citrus limonium, that have lipolytic, or fat-burning, activity.
Betancourt Nutrition Ripped Juice Concentrated
Betancourt Nutrition's Ripped Juice Concentrated contains numerous stimulants, such as yohimbine and caffeine as well as herbal extracts such as green tea extract and hoodia gordonii to help you with fat burning. In addition, Betancourt Nutrition Ripped Juice Concentrated contains amino acids, such as carnitine. Research published in the July 2006 issue of "Medicine and Science in Sports and Exercise" indicates that carnitine may increase testosterone uptake.
Myogenix Black Ops
The thermogenic fat burner, Myogenix Black Ops, does not contain any stimulants, but it may still promote fat loss and weight management. This product contains the amino acid theanine as well as 3-acetyl-7-oxo-dehydroepiandrosterone, also known as 7-keto, a thermogenic ingredient that increases thyroid activity. Increased thyroid function may increase your metabolic rate and enhance calorie burning.
BSN Thermonex
Numerous stimulants, such as yerba mate, caffeine and synephrine, help BSN Thermonex function as thermogenic fat burner. This product also contains the herbal extract citrus aurantium, an ingredient that may help increase your caloric expenditure, according to research published in a 2002 edition of the "Journal of Medicine."
Stimulants, such as caffeine, affect the brain and nervous system. Caffeine can increase your blood pressure and heart rate, act as a diuretic to increase urination, cause difficulty sleeping, induce tremors, depression, anxiety and increase your risk for osteoporosis, according to MedlinePlus.