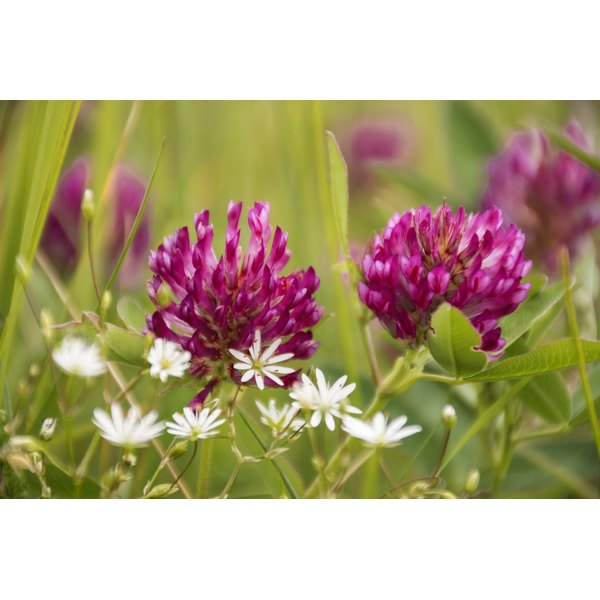 When dried, the reddish-colored flower produced by the Trifolium pratense herb -- called red clover -- may be used as a medicinal supplement. Red clover is available in a number of forms, including tea, ointment, extract, tincture, and capsules or pills. Consult your doctor if you have any questions regarding the benefits of taking red clover herb pills.
Traditional Uses
Red clover has been used traditionally as an expectorant, according to health experts with the National Center for Complementary and Alternative Medicine. Expectorants work by thinning the mucus present in your respiratory tract, which helps reduce symptoms associated with respiratory problems, such as asthma, bronchitis or whooping cough; however, this purported benefit of red clover supplements has yet to be fully validated in human clinical trials.
Menopause
During menopause, the level of estrogen -- a sex hormone -- in a woman's body naturally declines and she stops having her monthly menstrual period. Low estrogen levels during menopause, though normal, may cause symptoms such as hot flashes, irritability and vaginal dryness. Red clover contains estrogen-like compounds called isoflavones, which may mimic the way this hormone works in a woman's body. Thus, menopausal or post-menopausal women receiving treatment with red clover pills may experience a reduction in the severity or frequency of their menopause symptoms. The use of red clover supplements to treat menopause symptoms remains controversial and additional studies validating this potential benefit are needed.
Osteoporosis
Lower estrogen levels are also associated with osteoporosis, a condition characterized by diminished bone strength and bone loss. Taking red clover supplements may help prevent bone loss while also increasing bone density due to the herb's hormone-mimicking isoflavones, the University of Maryland Medical Center reports. This beneficial use of red clover supplements has yet to be fully substantiated in humans.
Cancer
Isoflavones may also help reduce or limit the growth of cancer cells. Health professionals with Drugs.com explain that red clover supplements -- when used in conjunction with alternate anti-cancer drugs -- may also help protect healthy tissues and cells during treatment. Though red clover has been shown to kill cancer cells in a laboratory setting, additional clinical trials in humans are necessary to further examine the safety and efficacy of this supplement in the treatment of cancer because estrogen-like substances such as isoflavones may fuel the growth of certain types of cancers -- particularly cancers that affect the female reproductive tract, such as breast, ovarian or uterine cancer. Consequently, women who have any of these forms of cancer should not use red clover supplements unless otherwise instructed by a health care professional.