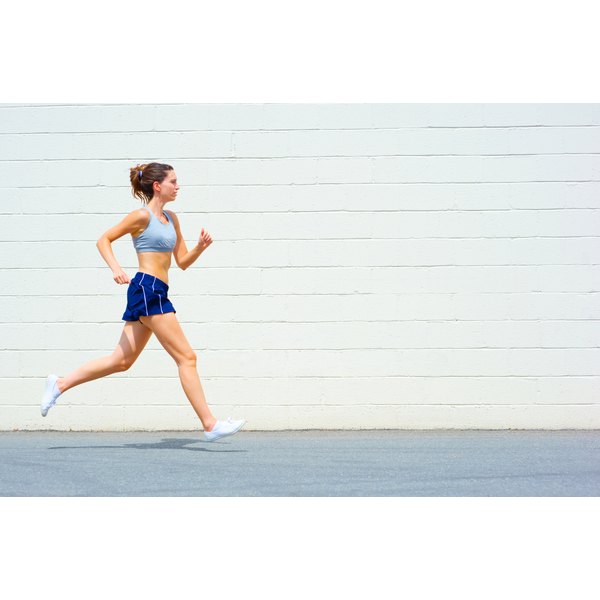 With so many weight-loss programs out there, choosing the right one can make your head spin. Slim in 6 is a weight loss program developed by workout enthusiast Debbie Siebers and produced by the fitness company Beachbody that combines diet and exercise to help you get fit in six weeks. Knowing how the program works may help you decide if it's the one for you. Before you purchase any weight-loss program, consult your doctor to discuss the benefits and risks of this or other programs you are considering.
About Slim in 6
Any good weight-loss program helps you eat better and move more so you burn calories. Although Slim in 6 is focused on exercise, it includes a diet component too. The low-impact program is designed for people who have a hard time sticking to their workouts because they're simply too strenuous. The diet is supposed to help you make the right food choices so you lose weight fast. Like many weight-loss programs, Slim in 6 makes big weight-loss promises, suggesting you'll lose 6 pounds and 6 inches in less than a week.
A Closer Look at the Workouts
The weight-loss program comes with five exercise videos, which focus on cardio, strength training and flexibility. The length of each video varies, ranging from 11 minutes to just over an hour. The main and longest videos -- "Start It Up," "Ramp It Up" and "Burn It Up" -- are focused on helping you burn fat and calories, according to the Beachbody website. The program also includes a video focused on abs and one on flexibility.
It's suggested you combine the cardio-focused workout with both the ab and flexibility workouts. So, essentially you're doing one of the main workout videos along with the ab and flexibility video most days of the week, alternating with the cardio videos.
What About the Diet?
Although exercise is the main focus of Slim in 6, a diet plan called the 6-Day Express Diet is also part of the program. It's a low-calorie, low-carb, low-fat diet plan that encourages you to eat more greens, lean protein, fruits and whole grains.
Breakfast typically contains protein and a whole grain, such as eggs and toast. Lunch and dinner comprise greens and a healthy protein, such as salad and grilled chicken. Snacks are also included in the program and may consist of fresh fruit, a container of yogurt or a handful of peanuts. Calorie intake may be restricted to about 1,200 calories a day. No matter what weight-loss diet you follow, you should not eat fewer than 1,200 calories a day unless you're under the close supervision of your doctor.
Hydration is also a big part of the diet plan. It's recommended that you drink 8 to 12 ounces of water as soon as you wake up, before you work out and before each meal.
Losing Weight With Any Program
Weight loss is about changing your caloric equation, which means you're eating less and burning more calories so your body has no choice but to burn fat for fuel. Slim in 6 helps you burn calories with lengthy workouts, and restricts calorie intake with its diet plan to help create the negative calorie balance. However, while any diet plan can help you lose weight, it's important to find one you can follow for life so you keep the pounds off. Slim in 6 is a well-rounded program, but its diet plan may be too restrictive for some, and the workouts may require too much time.