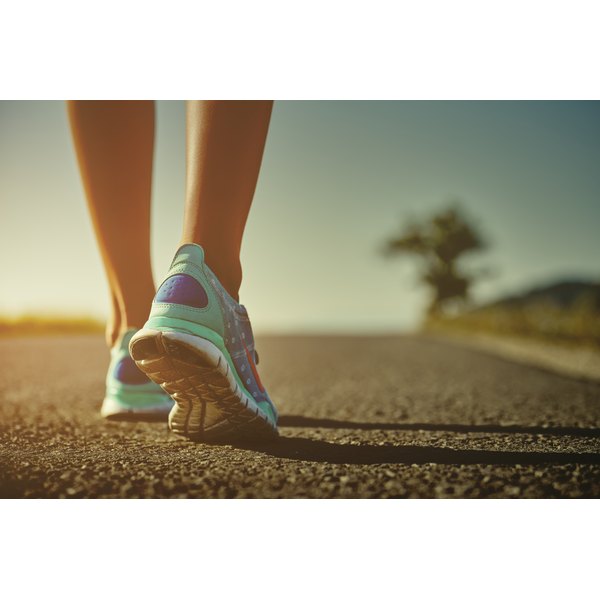 Walking is a viable exercise for fitness, overall health and weight loss. Using a pedometer when you walk can make a difference in your progress. In most cases, the most reliable and accurate pedometers are made with coil springs, which retain their original calibration better than pedometers made with hairsprings. The best pedometer is one that meets your personal needs. Pedometers made in Japan are required by Japanese law to be accurate within 3 percent.
Step-Only Pedometers
If you're just starting out on your walking regimen, the best pedometer may be one that only counts steps. Walkers who are overweight or walk slowly may not get accurate measurements because it is not calibrated for strides. If you have a large waist or walk slowly, you may get better results from an accelerometer, which is more accurate when it is tilted forward or at slower speeds.
Multifunction Pedometers
Multifunctional pedometers offer the more serious walker a variety of options. You can find a multifunction pedometer that includes time, distance, calories and fat-burning information, memory and a clock. A multifunctional pedometer can help you establish exercise goals and monitor your progress.
GPS Pedometers
If your budget allows and you want to measure your pace and know how far and how fast you're walking, pedometers with GPS capabilities may be the best for you. The best GPS pedometers fit on your wrist and have a large display. Because the GPS pedometer receives signals off of a satellite, the pedometer can guide you on your walk, pointing your way back home, if you need the information. GPS pedometers also provide you with a virtual walking partner, which can alert you regarding your pace, helping you know when to speed up or slow down. To keep track of your fitness goals on your computer, you can download data collected on your walk from your GPS pedometer.
Wrist Pedometers
For many walkers, wrist pedometers are the best choice because they're the most comfortable and natural. There's nothing extra to carry with you while you walk. Many wrist pedometers are multifunctiona or GPS equipped.
Accelerometer Pedometers
Accelerometer pedometers can measure data in varied angles. If you want to be able to wear your pedometer on your shoe or around your neck, keep it in your pocket or clip it to your purse, the best pedometer for your needs may be an accelerometer.
Warning
It requires about 6,000 steps per day to stay healthy. It requires almost 10,000 steps per day to lose weight. If you have any health problems, consult your physician before beginning a walking program.