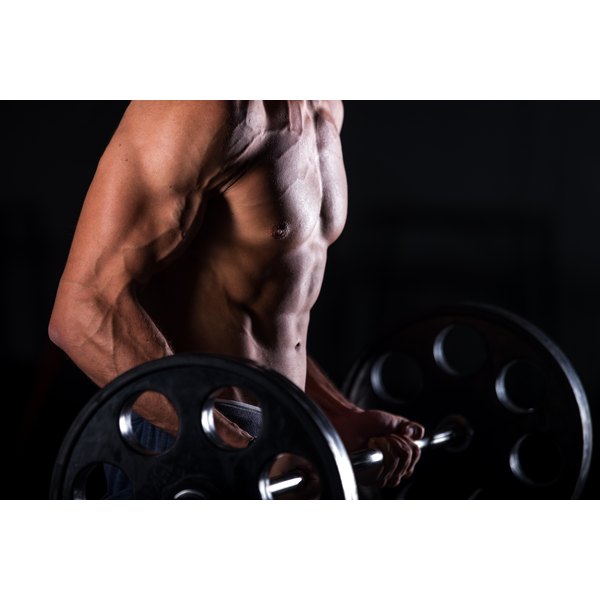 Advance Performance Supplements, also called APS, is known throughout the bodybuilding world for its unique blends of ingredients that promote fat loss and lean muscle gain. The APS White Lightning supplement is marketed as an energy supplement that can help you work out harder than you would otherwise, by increasing your energy levels and helping you focus. The safety and effectiveness of the supplement is in question, as many of the ingredients are unproven.
Promises
APS promises that White Lightning will "vastly increase cognitive function and concentration" by way of a "clean energy burst" that will not make you crash. The manufacturer also claims that the capsules will burn fat thermogenically, by increasing your body's temperature. The label suggests taking one capsule 30 minutes before working out, and increasing to two capsules as you build up a tolerance. A bottle of 60 capsules ranges from $35.95 to $49.95 as of 2010.
Ingredients
The White Lightning website does not list the ingredients, but a third-party retailer shows the active ingredient as being thiamizine complex. The complex is presumably a proprietary blend, and consists of thiamine disulfide, methylxanthine, naringin, 2-phenyl-1-aminoethane, 1,3 dimethylamylamine and methylsynephrine. Concentrations of each ingredient aren't given, but each capsule contains 700 mg of the entire blend.
Evidence
Thiamine is vitamin B1, and according to MedlinePlus, there is not enough evidence to rate it effective as an athletic enhancer. Methylxanthine is basically caffeine, which will definitely give you energy but has never been definitively shown to burn fat. The chemical 1,3 dimethylamylamine is a stimulant derived from germanium oil, and according to Substance Reviews, methylsynephrine helps your body store burned fat for energy. The National Library of Medicine does not contain any information to confirm the claims about methylsynephrine or 1,3 dimethylamylamine, and does not contain information about 2-phenyl-1-aminoethane at all -- this means that there is no concrete evidence to vouch for its safety or effectiveness.
Side Effects
Neither the APS website or third-party retailers list any side effects of White Lightning. MedlinePlus rates thiamine as "Likely Safe," but methylxanthine can cause a number of side effects as mild as nervousness and jitters or as severe as psychosis is sensitive people. Because so little clinical information is available for methylsynephrine, 1,3 dimethylamylamine and 2-phenyl-1-aminoethane, potential side effects and long-term safety is unknown.
Safety
White Lightning relies heavily on substances that are virtually unknown, without a safety record or even a single publicly-available effectiveness study. The fact that the label doesn't make the caffeine dosage clear is also concerning, especially if you are sensitive to caffeine. Consult your doctor before taking White Lightning, especially if you are taking medication or have an underlying health condition. Even if you are perfectly healthy, White Lightning retailers recommend taking at least two days off the supplement every week.