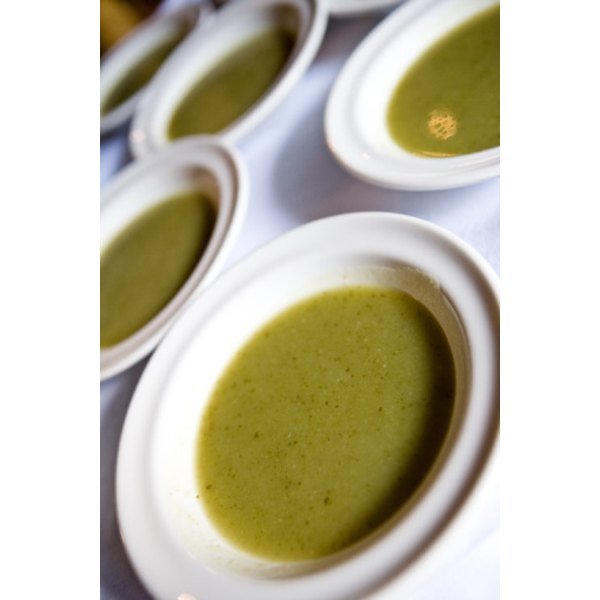 Several versions of soup detoxification diets exist, but they share the same essential features. Dieters follow soup cleanse plans to eliminate toxins and excess waste from their digestive tracts. A soup detoxification diet requires you to eat several servings of soup per day. Before you begin a soup diet, talk to your doctor about possible health consequences.
Significance
The typical modern diet includes processed foods, fatty snacks and high-calorie meals. These foods contain additives, preservatives, hormones and pesticides that may be toxic to your body. These toxins cause fatigue, bloating, weight gain and constipation, according to proponents of cleansing regimes. A soup detoxification diet supposedly eliminates these toxins from your digestive tract and provides antifungal activities that restore good health.
Features
The types of soups used in a detoxifying soup diet include cabbage soup, chicken soup, tomato soup and vegetable soup. You make a large batch of homemade soup to eat every time you feel hungry or thirsty. The bulk of your diet consists of soup along with organic fruits and vegetables. You may supplement your meals with small portions of lean protein, nonfat dairy products or whole grains. You are advised to drink plenty of water and fruit juices to stay well-hydrated. A typical soup cleanse lasts seven days.
Nutrition
Your body receives essential vitamins, minerals and antioxidants from the fruits and vegetables you eat. The small portions of lean protein, dairy products and whole grains increase caloric intake to boost your energy levels. Consuming large quantities of liquids from soup, water and juice promotes frequent bowel movements that flush the digestive tract.
Benefits
A detoxifying soup diet promotes rapid weight loss by significantly reducing calorie consumption. Frequent bowel movements help reduce weight by eliminating excess waste from your body. MayoClinic.com reports that some dieters feel more energetic and focused following a soup diet. The diet may improve your mood, decrease fatigue and regulate gastrointestinal activity.
Warning
Your organs naturally neutralize toxins and clear the digestive tract of waste, making a soup diet unnecessary and even dangerous for your health. MayoClinic.com warns that a soup diet may leave you malnourished and cause dehydration, fatigue, nausea and dizziness. Many dieters rapidly regain the weight they lost after following a detoxifying soup diet. Talk to your doctor before beginning a soup diet to determine if it is a healthy choice for you.