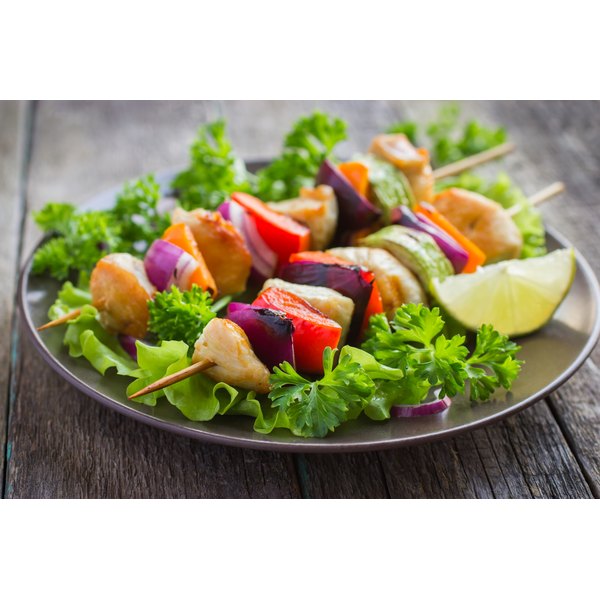 The Velocity Diet for Women is a weight-loss program that relies heavily on the use of meal replacement protein shakes and dietary supplements that proponents claim can stimulate weight loss and suppress your appetite. During the 28 days that the plan lasts, you will eat only one meal of solid food per week and follow an exercise regimen daily. While the plan promises quick weight loss and a lean, more muscular body, the Velocity Diet's many disadvantages make it a poor choice for long-term, sustainable weight loss.
Aspects
The Velocity Diet consists of three aspects: daily protein shakes and dietary supplements; a regular exercise routine; and a solid food meal consumed only once weekly, according to DietSpotlight.com. The protein shake, known as Metabolic Drive, is reportedly made up of compounds that will boost your metabolism, causing you to lose weight faster. Milled flax seed and natural, unsweetened peanut butter are added to several of the shakes daily to provide healthful fats, adequate calories and fiber. Five dietary supplements are recommended on the plan: Hot-Rox Extreme, Flameout, a Surge Post-Workout Drink, Fiber Choice plus Calcium tablets and fish oil supplements. Together, these supplements are designed to increase your metabolism of fats, provide additional beneficial fatty acids, increase your lean muscle mass and provide healthy amounts of fiber, according to Figureathlete.t-nation.com.
Guidelines
While on the Velocity Diet for Women, you will drink a glass of the Metabolic Drive protein shake four to six times a day, ideally every four hours. You will also need to take all five of the recommended supplements daily and adhere to an exercise regimen that includes lifting weights three times a week, interspersed with days talking a brisk walk. For one meal a week, you can eat solid food. This meal should consist of a lean protein like chicken breast or lean steak, simply cooked fresh vegetables and a complex carbohydrate such as whole wheat pasta. When the diet's 28 days are complete, you will gradually transition back to a normal eating pattern by first eating two healthful meals a day, then three, according to Figureathlete.t-nation.com.
Ingredients
The protein shake, Metabolic Drive, which makes up the bulk of what you will consume on the Velocity Diet, contains a blend of proteins from milk protein concentrate, a whey-protein isolate and micellar casein, a compound derived from milk, cocoa powder, lecithin, sunflower oil, a variety of bulking and anti-caking agents, including cellulose gum, monoglyceride, diglyceride, potassium chloride and silica and artificial flavorings, according to DietSpotlight.com.
Advantages
Proponents of the diet claim that you can lose as much as 20 lb. in the 28 days that the program lasts, in addition to helping wean you off unhealthful food. The program is extremely simple to follow because it doesn't have any special meals to prepare, no calories to keep track of and no fat grams to count. The plan emphasizes both mild cardiovascular and weight-training exercises and, when you do eat solid food during the month, only unprocessed, low-fat foods are emphasized in order to help train you to continue in healthy eating habits after the 28 days on the program are complete.
Disadvantages
The most striking disadvantage of the Velocity Diet for Women is the plan's heavy dependence on meal replacement shakes and dietary supplements. Not only can this be prohibitively expensive for many dieters, it can make the process of dieting a serious strain as followers try to adhere to the plan's restrictions. Women who have families and children to care for may find the program especially difficult as they try to take of the nutritional needs of their family members. Additionally, health professionals contend that diets like the Velocity Diet for Women don't provide sustainable weight loss -- as soon as you have completed the program, chances are you will regain all the weight you lost. Because of the extreme nature of the diet, you should consult your doctor before starting the Velocity Diet.