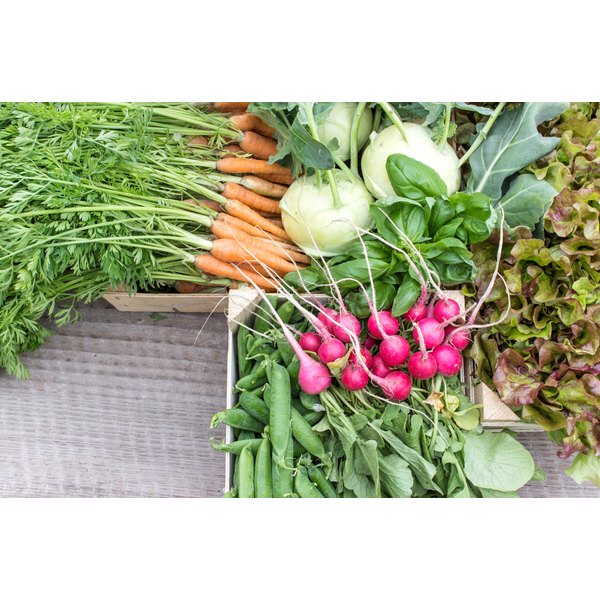 Groceries, ingredients and prepared meals make up a significant portion of any family's budget, and finding ways to cut food costs without sacrificing meal quality can be difficult. There is a middle ground, however, and it's possible to achieve it even while sticking to a healthy and balanced diet.
Benefits
Saving money and being able to put it toward other things is perhaps the biggest advantage of following an inexpensive diet. Especially for families that struggle with unemployment, medical bills, foreclosure and other significant financial problems, saving just a few dollars a week on groceries can make a big difference. Choosing affordable items that are nutritious also has health advantages. According to MyPyramid, following a balanced eating plan can reduce the risk of high cholesterol, osteoporosis, cancer, heart disease, stroke, kidney stones, bone loss and diabetes.
Foundation
The best inexpensive diet is able to reduce a family's normal grocery budget and still meet all nutritional needs and feature tasty, satisfying meals and snacks. It has daily servings of whole grains, nonfat dairy, vegetables, lean proteins and fruits. Ideally, each meal will also have a balance of unsaturated fat, lean protein and complex carbohydrates, and the diet as a whole will limit added sugar, cholesterol, trans fat, saturated fat and sodium.
Investment
To cut grocery costs and continue to prioritize nutrition, people must be willing to invest in their diets up front, primarily in terms of time. Meals Matter suggests gathering favorite recipes or looking through cookbooks for new recipe ideas. Choose those with affordable ingredients that you normally stock or know you can easily get. Write a comprehensive grocery list that covers one week's worth of meals, and go shopping with an eye toward what's on sale and in season, as the Mayo Clinic suggests. By putting in the planning time and avoiding impulse buys at the store, you'll likely see a return in lower grocery bills.
Tips
To save more money, Cooking Light magazine suggests that families consider joining a community supported agriculture, or CSA, group, which provides seasonal and local fresh produce. Organizations such as Local Harvest make it simple to search for CSAs all over the country. A CSA membership can cost several hundred dollars or more per full share, but each share provides enough produce for a family of four for an entire growing season, making the total cost cheaper than what you'd likely spend at the store. Farmers' markets are also more affordable than most grocery stores and may have better selection and fresher items. There is a link to Local Harvest's directory in the Resources section.
Finally, clipping coupons is a smart strategy when the savings are offered on fresh, healthy foods. Look through newspapers and inserts for sales, and do Web searches to find coupons for specific companies or products. Avoid savings on processed foods that offer little nutritional value.
Considerations
Packaged and processed food products are often more affordable than fresh items. However, any packaged product is likely to be higher in harmful nutrients than a fresh, whole food, so people must be aware that choosing a cheaper option may occasionally constitute a nutritional sacrifice. Before beginning any new eating plan, it's helpful to talk over the plan's details with a physician or registered dietitian.