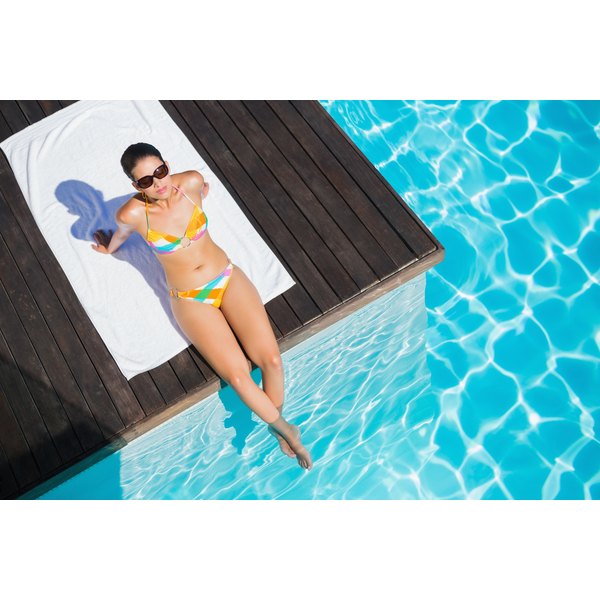 Women and men burn fat differently. Men lose weight faster than women due to higher testosterone levels. But according to the SlimQuick website, the company's diet products are designed to work with female hormones to assist women to speed up weight loss for women. Slimquick comes in three varieties, each designed with a special formula. As with any and all diet or weight loss products, it is best to consult with a physician prior to taking any diet supplements to discuss potential side effects or individual nutritional requirements.
SlimQuick Cleanse
Detoxification diets promote weight loss by removing toxins from the body. SlimQuick suggests you start your weight loss program with SlimQuick cleanse. With the herbal formula, SlimQuick cleanse claims to remove toxins from your liver, kidneys and intestines. SlimQuick cleanse contains over a dozen herbal ingredients known for aiding in elimination, both in urine and bowel movements. Ingredients include milk thistle extract, dandelion and cranberry along with slippery elm. Milk thistle aids with detoxification of the liver. Dandelion and cranberry are diuretics and increase toxin removal through urine. Slippery elm creates a mucus-like substance in the digestive tract and intestines, both which can become irritated or inflamed during a detoxification.
SlimQuick Original
Burn, baby, burn. Fat must burn to be removed from your body. SlimQuick original first ingredient is a blend of green tea and caffeine that are known for increasing internal body heat. Green tea contains ECGC, also known as epigallocatechin gallate, that has thermogenesis properties to help burn fat. Caffeine and yerba mate both contain appetite suppressant and vasodilating properties. Both of these ingredients thin the blood and increase heart rate. If you are taking blood thinners like coumadin, consult with a physician about potential side effects of taking SlimQuick.
SlimQuick Extreme
Those last 5 to 10 lb. can be the most challenging to shed and you may need an extra push to get rid of them. SlimQuick extreme, according to the SlimQuick website, burns fat almost six times faster than other products because it contains hoodia, an south African plant, and yohimbe, a west African bark. There are contradictory claims on hoodia's ability to help with weight loss, but adding hoodia to weight loss products is supposedly due to its ability to trick the body into thinking it is not hungry. Yohimbe works as a stimulant, providing energy for the body. Both hoodia and yohimbe should not be used by diabetics or individuals with high blood pressure. Consult with your physician prior to taking SlimQuick extreme.