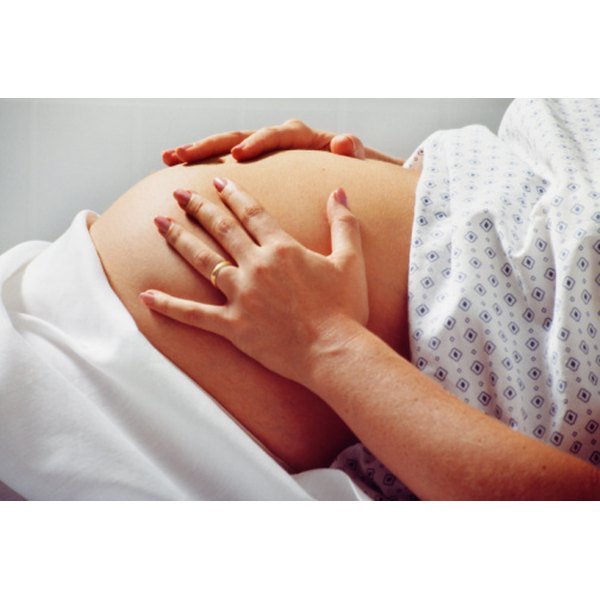 Vitamins and minerals are vital for proper fetal development and One-A-Day Prenatal Vitamins are one choice for supplementing your daily diet. To create an optimal environment for your baby's development, the American Pregnancy Association urges women to eat a well-balanced diet consisting of unprocessed foods, such as fruits, vegetables, whole grains, lentils, and lots of water before and throughout your pregnancy. Supplemental vitamins and minerals are recommended during pregnancy when a woman's daily requirements for nutrients, especially folic acid, calcium and iron increase. Follow your doctor's guidelines when choosing a prenatal vitamin to meet your needs.
Vitamin A
One-A-Day Prenatal Vitamins contain half the recommended daily requirement of vitamin A, which is 8000 IU, with 50 percent derived from beta carotene and 50 percent from synthetic retinol. Overdosing with vitamin A from synthetic retinol can cause birth defects, according to a Boston University School of Medicine's study published in November 1995 in "The New England Journal of Medicine."
B Vitamins
Folic acid, a B vitamin, is an essential ingredient in One-A-Day Prenatal Vitamins. Getting enough folic acid before conception and early in pregnancy can reduce the risk of fetal neural tube defects, such as spina bifida, and women of childbearing age should take 400 micrograms of folic acid daily, according to the What To Expect website article by Heidi Murkoff, author of "What To Expect When You're Expecting." One-A-Day Prenatal Vitamins provide 100 percent of the daily requirement of thiamin, or B-1; riboflavin, or B-2; niacin, vitamin B-6 -- which Heidi Murkoff says may help women experience less nausea during their first trimester -- vitamin B-12; biotin and pantothenic acid.
Vitamin C
One hundred percent of the daily requirement of vitamins C is provided in One-A-Day Prenatal Vitamins. Sixty milligrams of vitamin C comes from ascorbic acid, a nutrient necessary for tissue repair, collagen formation, iron metabolism and folic acid conversion, according to the Drug Safety Society, which notes that the National Academy of Sciences recommends taking up to 70 mg of vitamin C during pregnancy.
Vitamin D
One-A-Day Prenatal provides 400 IU of vitamin D and lists it as 100 percent of the daily requirement. According to a 2010 Science Daily report, consuming 4,000 IU of vitamin D during pregnancy may prevent preterm labor, premature delivery and infections.
Vitamin E
The vitamin E in supplements and food is positively related to increased fetal growth and decreased risk of small-for-gestational-age, according to a study published in December 2006 in the "American Journal of Clinical Nutrition."
Minerals
Minerals listed on the nutritional facts label of One-A-Day Prenatal Vitamins include the essential calcium and iron, plus iodine, magnesium, zinc and copper.
Oils and Fatty Acids
The omega-3 fatty acids in these vitamins are predominately from fish oil. The tablets contain oil derived from cod, pollock, haddock, hake, cusk, redfish and soy; the liquid gel caps contain sardine, anchovy and soy. This multivitamin also provides eicosapentaenoic acid, or EPA, and docosahexaenoic acid, or DHA.
Non-nutrient Ingredients
Some of the non-nutrient ingredients in One-A-Day Prenatals and other prenatal supplements are gelatin, polyvinyl alcohol, croscarmellose sodium, polyethylene glycol, propylene glycol, talc, titanium Dioxide and FD&C Red No. 40 Lake, a coloring agent made from petroleum, according to a 2010 article on The Examining Room of Dr. Charles website.