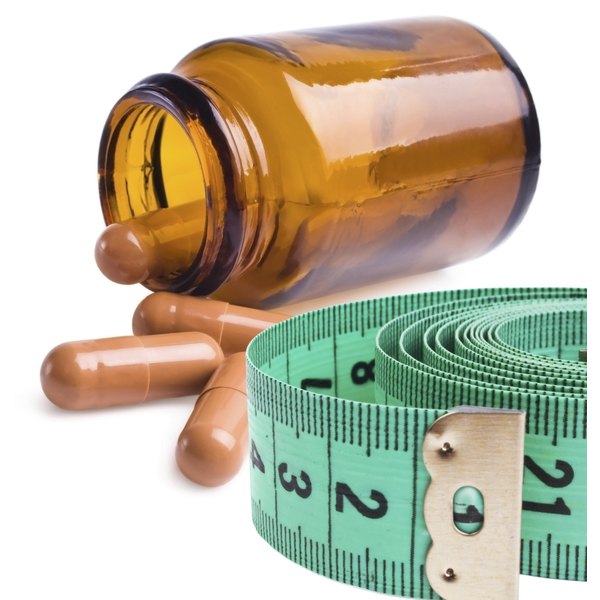 Hydroxycut is a weight loss drug that promotes rapid weight loss in both men and women. It promotes the loss of water weight and also acts as an energy enhancer. When used as a part of a balanced diet and exercise regime, Hydroxycut may help increase the amount of weight loss in a shorter amount of time. Consult a health care specialist before using dietary supplements as treatment options.
Active Weight Loss Ingredients
Green tea extract is often associated with weight loss primarily because it stimulates the metabolism. According to PubMed, a 2008 study performed by the Dept of Physiology at Khon Kaen University in Thailand states green tea promoted weight loss in obese subjects by increasing energy levels and oxidation levels. Oolong tea extract is another ingredient in Hydroxycut that promotes weight loss by speeding up metabolism. Caffeine is another stimulant that helps to burn fat stored in the body. White tea extracts helps in weight loss because it prevents fat cells from forming. Garcinia cambogia rind extract that is found in Hydoxycut is used primarily as an appetite suppressant.
Additional Ingredients
Additional ingredients added to Hydroxycut include ginger root extract, quercetin dehydrate and raspberry ketone. Hydroxagen is a patented ingredient made specifically for Hydroxycut products. It helps prevent carbohydrates from turning into fat and being stored in the body. According to Pubmed, a 2006 study performed by the School of Arts and Sciences Biology Department concludes Hydroxycut aided in the decrease of liver fat in animal subjects over an eight week period, however testing was not performed on humans. Hydroxycut also includes rhodiola rosea root extract, which helps reduce feelings of fatigue.
Inactive Weight Loss Ingredients
Hydroxycut includes other minerals that are beneficial for overall health. Calcium, which promotes strong bones and chromium, are inactive ingredient in Hydroxycut. Phosphatidylserine-enriched soy lecithin is used as a filler while gymnema sylvestre leaf extract is used for the treatment of diabetes. Gymnema sylvestre leaf extract is also known to lower and stabilize blood sugar levels. According Pubmed, a study by the Department of Biochemistry at the University of Madras in India states gymnema sylvestre leaf extract helped lower insulin requirements in diabetics.