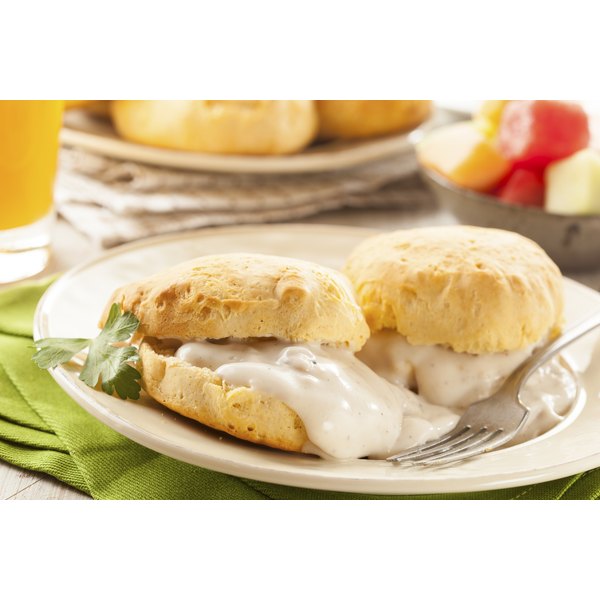 Adding a fluffy biscuit smothered in savory gravy as a side dish to your favorite breakfast or Southern-inspired meal might be delicious, but expect the taste to come at the price of a significant boost in your day's caloric intake. Biscuits and gravy are each high in calories on their own. Consuming them should be a rare treat rather than the norm if you're concerned about weight gain.
Tip
Biscuit With Gravy has 196 Calories and 4.52 g of Protein per 100 gram serving according to the nutrition facts provided by the USDA Food Composition Database.
A High-Calorie Combination
The calories in a biscuit depend on its ingredients. According to the U.S. Department of Agriculture, a small plain or buttermilk biscuit about 1.5 inches in diameter with a weight of 0.5 ounces prepared from a recipe contains 49 calories. A large biscuit about 4 inches in diameter with a weight of 3.5 ounces has 357 calories. A prepared Pillsbury biscuit with a weight of 2.3 ounces contains 151 calories. A quarter cup of canned chicken gravy has 47 calories. If you consume a large biscuit prepared from a recipe and topped with gravy, expect the dish to exceed 400 calories. A biscuit with gravy is slightly higher in calories at fast-food restaurants. At Hardee's, for example, the Biscuit 'N' Gravy breakfast contains 460 calories.