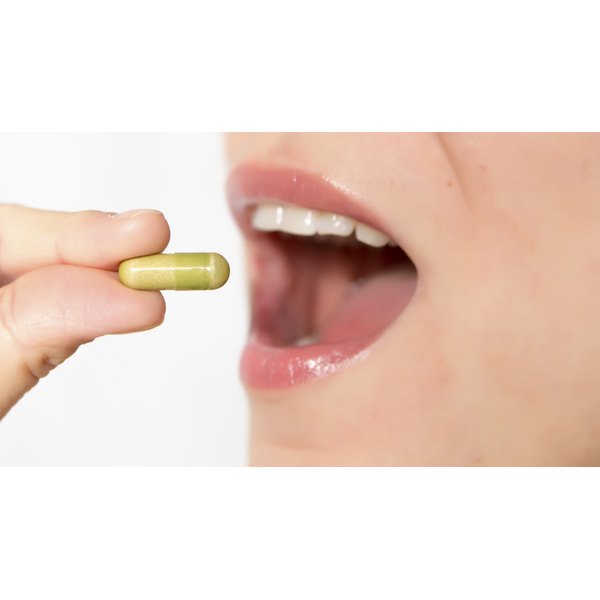 Women have different nutritional needs than men. Some needs can be met from ingesting multivitamins especially designed for women. Women's One a Day vitamins is a complete multivitamin specifically formulated for women's health. Some of its health benefits include increasing breast health and helping to promote strong bones. Women's One a Day vitamins can also provide energy and clear, healthy skin, however, you should consult with a health-care specialist before using dietary supplements as treatment options.
Active Ingredients
Calcium is one of Women's One a Day vitamins' main ingredients. It promotes strong bones and helps fight bone loss. Other active ingredients in Women's One a Day vitamins include vitamin A, which plays an important part in soft tissue formation, promoting strong teeth. Beta carotene is an antioxidant that protects the body's cells from free radicals. Vitamin C is important for healthy skin, connective tissues and bone strength. Vitamin D helps bones absorb much needed calcium and aids in boosting the immune system. Vitamin K is another active ingredient that promotes blood coagulation and prevents hemorrhaging. According to Bodybuilding.com, Women's One a Day multivitamin helps to promote bone health and protection for joints.
Additonal Ingredients
Other active ingredients in Women's One a Day vitamins include vitamin E. Vitamin E promotes healthy vision and eye health. Folic Acid helps to produce new cells in the body. While magnesium oxide helps to promote bone health, it also increases bone density, which is important for women as they grow older. Chromium helps to improve insulin performance. Biotin helps to metabolize carbohydrates and amino acids. Iron is another active ingredient that helps to create red blood cells, which carry oxygen. Pantothenic acid is an active ingredient that is linked to lowering cholesterol levels. According to Medline Plus, multivitamins can help to prevent heart disease in some women.
Inactive Ingredients
Inactive ingredients used in Women's One a Day vitamins include titanium dioxide, which gives the tablet its color and FD& C yellow #5, a food coloring dye used to provide color. Hydrochloride is a salt compound, listed as an inactive ingredient. Polyethylene glycol is also an inactive ingredient that has been linked to the relief of constipation in some individuals. Cellulose helps the digestive tract function properly. According to the Agency for Healthcare Research and Quality, the use of multivitamins may help to lower the risk of cancers and bone disorders such as osteoporosis in women. Other inactive ingredients include glucose, dicalcium phosphate and talc.