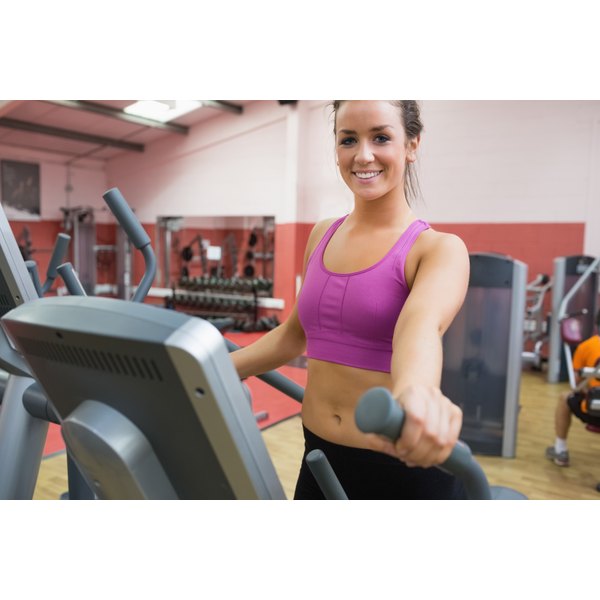 Ellipticals, like any other exercise machine, carry the load of hundreds of pounds of weight when you use them. With excessive use -- once a day or more -- this weight stresses the elliptical. Following the elliptical's weight limit is vital to keep your machine running smoothly. Elliptical manufacturers set these limits based on how much weight the machine, including its frame, motor and other parts, can withstand without causing damage or stressing it.
Significance
Know the weight limit for your elliptical machine to keep your machine running smoothly. Exceeding the weight limit may cause certain features, such as the incline ramp adjustment, console or pedals to work incorrectly. In some cases, exceeding the weight limit can permanently damage the elliptical.
Typical weight limits
Weight limits vary with each elliptical model. Elliptical weight limits fall within the 250 to 400 lb. range. Commercial quality elliptical machines typically offer the highest weight capacity to meet the needs of more users. Elliptical machines intended for home use have lower weight limits, often less than 300 lbs.
Features
Elliptical machines with lower weight limits are often lighter with smaller frames and less parts. They may use a less powerful motor since the machine is dealing with less weight. These machines often fold away to take up less space and weigh less, making them easier to transport.
Elliptical machines with higher weight limits have sturdier frames and parts to withstand more weight. These ellipticals often have a more solid look and weigh more, but some still fold up to fit in smaller spaces. They typically offer a more powerful motor to account for heavier users.
For Further Help
To find out your elliptical's weight limit, consult your owner's manual. The weight limit is often found in the front of the manual in the "Warnings" section. If you are unable to find your elliptical's weight limit, contact your elliptical dealer or the manufacturer's customer service department. Locate the serial number on your elliptical's frame before calling so the representative can provide you with faster service.
Warnings
Persons who exceed the elliptical's weight limit should not use the machine. Doing so may cause permanent damage.
Elliptical machines intended for home use should not be used in commercial settings to avoid exceeding the weight limit.
Elliptical manufacturers do not cover damage related to using the elliptical when you exceed the weight limit; this constitutes misuse or abuse and voids the elliptical manufacturer's warranty.