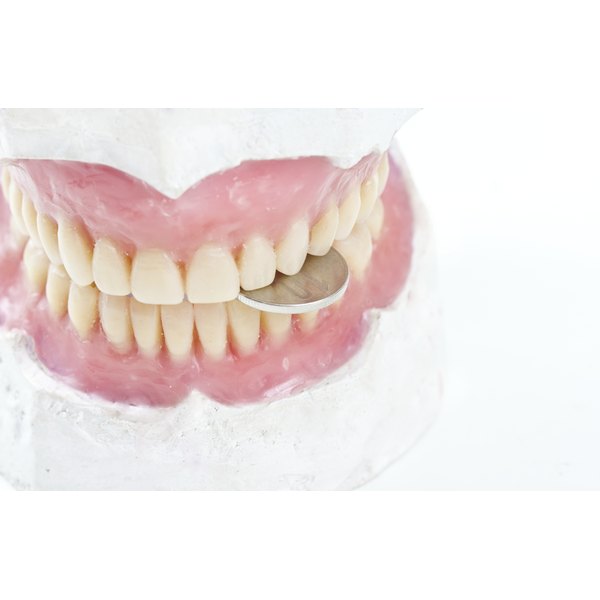 Dental work is often necessary to fix problems with your teeth and gums, but it can be expensive. For example, crowning a tooth can cost hundreds of dollars, and bridgework can be $1,000 or more. If you don't have dental insurance, the entire cost must be paid out of your pocket. And even if you do have coverage, you are often responsible for part of the bill. Fortunately, there are ways to finance dental work that allow you to pay it off over time.
Ask your dentist for an estimate of how much your dental work will cost. If you need more than one procedure, ask the doctor to break down the cost of each one.

Ask whether any of the procedures can be delayed. Some dental work, such as replacement of a lost tooth, could be put off temporarily if you're in a financial crunch. But other problems, such as a cracked tooth, can lead to more serious issues and a greater expense if you delay the repairs. Use this information to decide on the dental work you to have done immediately.

Check your credit card interest rates. If you have a card with a low rate, it may be your best option for financing dental work. If the credit limit on your low-interest card is not high enough to cover the procedure, call the issuer and ask if it can be raised.

Open a new credit card account with a special introductory offer if none of your current cards have a low enough interest rate. Many card issuers will offer low interest, or even zero percent for a certain period to attract new customers. This can be useful if you need to finance dental work. Once you have paid your dentist, destroy the card so you can't use it for other purchases and run up more debt. Don't close the account; leaving it open can help your credit score as long as you always pay on time.

Ask your dentist about financing options. Many dentists work with loan companies geared specifically toward financing dental work, and Atlanta Dental Group says your doctor can provide a treatment plan and any other paperwork required for the loan. These companies tend to have higher interest rates than credit cards, but their requirements are often less stringent. Credit Care and Dental Fee Plan are two major financers of dental work, according to Dental Resources.

Tip

If you belong to a credit union or are a long-time bank customer, your financial institution might give you a personal loan at a better rate than a dental financing company would offer.

Warnings

If you have a bad credit history, Dental Resources says you might not be able to get financing for your dental work without a co-signer. This would be a family member or friend with good credit, who agrees to be liable for the loan if you do not pay it yourself.