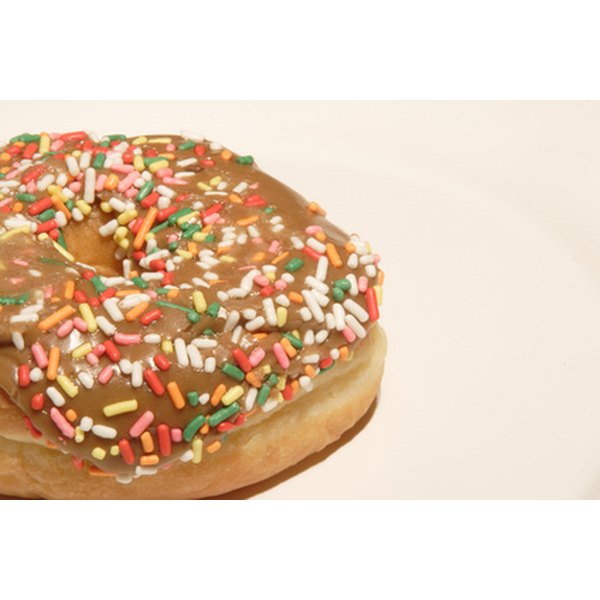 Dunkin' Donuts is a breakfast chain restaurant that is famous for its donut selection and fresh-brewed coffee. Donuts are often fried, and if you add cream and sugar to your coffee, this breakfast pairing is not as healthy as your morning meal should be. Learning more about the nutrition facts for the Dunkin' Donuts menu will help guide you when you stop at the restaurant for a quick meal.
Tip
One serving of Summary is reported to have 1235 Calories, according to the nutrition facts provided by livestrong.com.
Bagels and Cream Cheese
Bagels and cream cheese is a common breakfast choice, but can contain several hundred calories as well as too much fat. The Plain Bagel can be a healthy choice with only 320 calories and 2.5 g of fat, but cream cheese will add 150 calories and 15 g of fat, as well as 250 mg of sodium. Opt for the reduced-fat cream cheese to lower your intake to 100 calories and 8 g of fat. Flavored bagels have additional calories. The Everything bagel, which includes onion, poppy seeds and sesame seeds, has 350 calories and 4.5 g of fat and the cinnamon raisin has 330 calories and 13 g of sugar. Surprisingly, the multi-grain bagel has the most calories, 390, and the most fat, with 8 g, but also includes 7 g of fiber.
Muffins and Pastries
The muffin and pastry menu includes additional high-calorie breakfast items that contain several grams of sugar per serving. The apple fritter has 410 calories and 27 g of sugar as well as 17 g of fat, 7 of them saturated. An eclair has 390 calories and 8 g of saturated fat as well as 21 g of sugar. The apple fritter and eclair have 10 percent of your daily iron needs also. The muffin selection is even less nutritious. With 480 calories and 44 g of sugar, the blueberry muffin cannot be considered a healthy breakfast choice even though the blueberries add 60 percent of your daily vitamin A requirements and a small amount of fiber. Even less healthy is the Coffee Cake Muffin with 630 calories, 25 g of fat and 55 g of sugar in just one muffin.
Additional Breakfast Items
Additional breakfast items come with less sugar but more fat and sodium. The Egg and Cheese English Muffin Sandwich has 320 calories, 820 mg of sodium and 15 g of fat. The Ham, Egg and Cheese Croissant Sandwich has 1,080 mg of sodium in addition to 510 calories and 31 g of fat. The least-healthy sandwich is the Maple Cheddar Breakfast Sandwich, which has 720 calories, 49 g of fat -- 20 of them saturated -- and 1,140 mg of sodium. A side order of hash browns with will increase your meal by 200 calories and 11 g of fat.
Beverages
The coffee drinks are among the most popular offerings at Dunkin' Donuts. A regular-sized black coffee can be considered a healthy choice with only 10 calories and zero fat. Flavored coffees, such as cinnamon, hazelnut, blueberry and caramel raspberry, without cream or sugar, still only have 10 calories, but a few grams of additional sugar. Unsweetened brewed or iced tea is another low-calorie and zero-fat option. Sweetened tea adds 120 calories and 28 g of sugar. Blended coffee drinks are high in fat as well. A 24-oz. Coolata has 650 calories, 9 g of fat and 129 g of sugar. A 16-oz. Caramel Apple Latte contains 49 g of sugar in addition to 340 calories and 9 g of fat.
Donuts
Dunkin' Donuts offers several varieties of donuts and cake donuts. The cake donuts have more calories and fat than the regular donuts. The Cinnamon Cake Donut contains 340 calories and 22 g of fat, as well as 13 g of sugar. An Apple Crumb Donut has 490 calories, 49 g of sugar and 9 g of saturated fat. The Chocolate Frosted Cake Donut has 370 calories and 23 g of fat and the Glazed Donut has 260 calories and 14 g of fat. Most of the options have at least 300 calories, 10 g of fat and 15 to 20 g of sugar per donut.
Considerations
According to Walter Willett, Patrick J. Skerrett, Edward L. Giovannucci and Maureen Callahan, authors of "Eat, Drink and Be Healthy: The Harvard Medical School Guide to Healthy Eating," foods high in saturated and trans fat contribute to heart disease. While Dunkin' Donuts does not use trans fat in the food on its menu, many of the baked goods, coffees and breakfast sandwiches have more saturated fat than one meal should contain. Since Dunkin' Donuts has taken the step to remove trans fat, you can take the next step and order items low in saturated fat. Order your coffee without whole milk or whipped cream. Pass on chocolate flavored coffee, because this also increase your saturated fat intake. Choose regular donuts over cake donuts and opt for reduced-fat cream cheese to decrease it even more. Make Dunkin' Donuts an occasional breakfast stop rather than something you indulge in everyday.