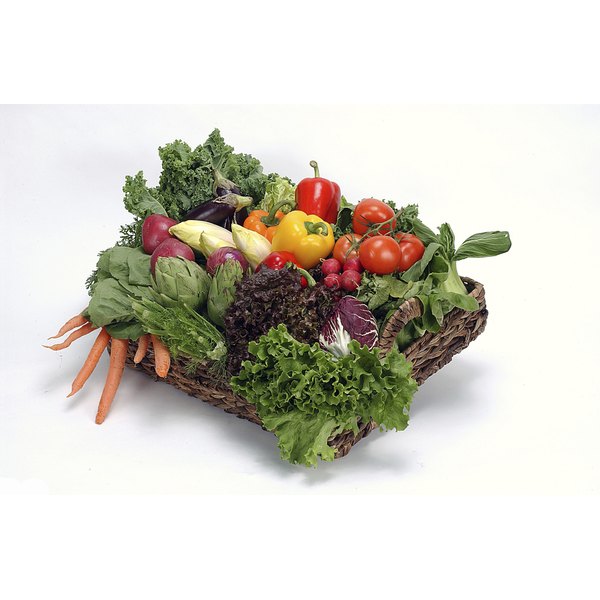 No quick-fix weight-control pills exist. Fad diets eventually fade. Meal program expenses can drain your budget. Some diets can even damage your health. If you want to lose weight, tone-up, stay slim, feel more energetic and look healthier, follow this diet. No more calorie-counting or eating just the right thing. Simply eat a wholesome diet of fruits and vegetables. Chances are, you'll see results fairly early in the program, but even more important, you'll see those results stick. The American Dietetic Association endorses a vegetarian diet during all stages of life as a healthful, lifelong lifestyle change.
What to Eat
Eat plants. These two words describe the diet concisely. When planning your meals, choose whole plants. An endless variety of plants exists, so explore the wide-range of flavorful, healthy options available to you. You may quickly discover some new plants to add to your food repertoire.
What Not to Eat
Don't eat processed foods or animal products. By eliminating meats and animal byproducts from your diet, you can avoid the primary source of cholesterol and saturated fats in the American diet, as well as cut a significant source of calories. Don't substitute animal fats for man-made fats, however, by eating large quantities of processed foods. Processed foods tend to contain more simple sugars, fats and sodium. A good rule of thumb to follow is, if it isn't a plant, don't eat it. With no animal products in the diet, you may have to supplement vitamin B-12, which is only available from animal sources according to
How Much to Eat
The Loma Linda University School of Public Health recommends that vegetarians eat daily six servings of grains, three servings of legumes, two servings of nuts and seeds, eight servings of vegetables, four servings of fruits and two servings of vegetable oils. This plant-based diet supplies all the necessary proteins, carbohydrates, fats, vitamins and minerals necessary for good health. It is important that you take in your required servings to make sure you get much needed macronutrients -- carbohydrates, proteins, fiber, fats/cholesterol and water.
Weight-loss Results
One of the great pleasures of eating a vegetable and fruit diet is that, generally, you can eat more and control your weight. Fruits and vegetables supply an important source of fiber, an essential component of weight-control. The American Dietician Association explains that fiber bulks up your meals with indigestible foods that makes you feel full faster without adding calories. Fiber also aids in digestion, moving food through your digestive tract more efficiently. On average, people can eat more fruits and vegetables, while consuming fewer calories and less fat, than if they include meat and dairy in their diets.
Spice It Up
Eating fruits and vegetables does not equate to eating a boring meal. Use herbs and spices to spruce up your vegetables. Basil, cilantro, garlic, oregano, pepper or turmeric can add pizzazz to raw vegetables. Dress up salads with olive oil and balsamic vinaigrettes. Create Indian curries, Italian pestos or Cuban mojo sauces to dribble over cooked vegetables. Enjoy a bowl of sweet, fresh fruits for dessert.