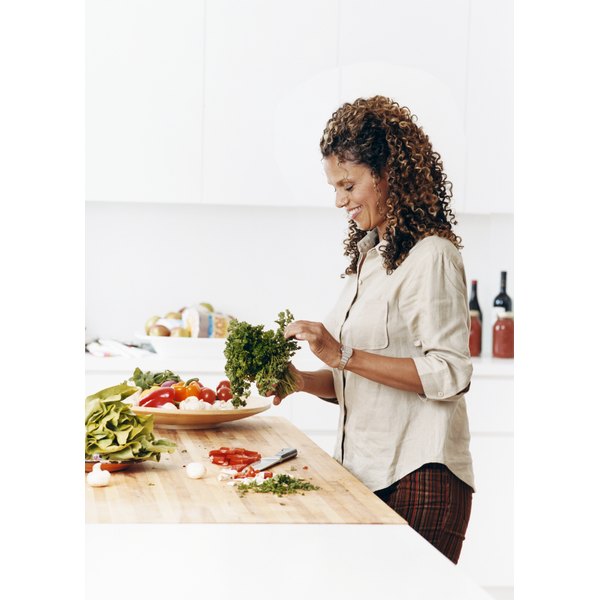 Stacking for weight loss combines specific groupings of herbs, taken together in certain quantities, to assist in weight loss efforts while exercising and dieting. Many weight loss pills and potions on the market today should not be mixed or combined for safety reasons. Always consult your doctor before using a weight loss supplement or diet aid. Creating specific stacks of supplements has been used by many people to lose weight over the past decade and can offer herbal stimulus to increase energy and performance. Specific stacking protocols have been used over many years and have had few negative side effects.
Find a supplement that uses 334 milligrams of Ma Huang extract in order to get 6 percent of Ephedrine Alkaloids. This should be labeled on the packaging. The "Ephedra sinica" form of the Ma Huang herb contains the thermogenic chemical "Ephedrine" at a concentration of about 6 to 8 percent for safe use, according to John Stamatopoulos, professional body builder with BodyBuilding.com. Ephedrine is not available on the market, and can only be obtained safely through the Ma Huang extract, which is widely available.

Use a supplement that has 910 milligrams of Guarana extract in order to get 200 milligram of caffeine, or just use a supplement that has 200 milligrams of pure caffeine. Guarana is basically caffeine in herbal form and creates heat in the body to boost metabolism, according to Ray Sahelian, doctor and author and herbal product formulator. Guarana extract contains around 10 to 20 percent of caffeine.

Stack the previous supplements listed in steps one and two, with 25 to 30 milligrams of Guggulsterones per capsule. This is a common stacking program built for weight loss. Guggulsterone has been shown to preserve or increase the metabolic rate, preserve or increase thyroid output, and provide much needed substrates for the production of neurotransmitters (epinephrine and norepinephrine) that are directly involved in weight loss and the metabolic rate, according to Stamatopoulos.

Tip

For better results, take these supplements alternatively throughout the day until your last meal of the day, taking the Guggulsterones last. Try to take them around one hour apart. Also after your cycle is finished, take at least three to four weeks off.

Warnings

Never take your Ephedra, Caffeine and Guggulsterones stack before you sleep or with your last meal. It is always better to take your last serving at least four hours before you sleep. Always discuss your use of weight loss supplements with your doctor.