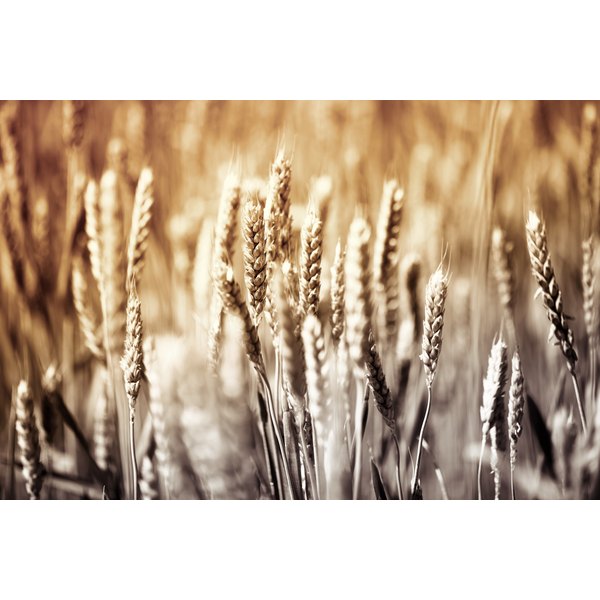 The deep green color found in the blades of wheatgrass gives hints into its many health benefits. The color is actually chlorophyll, a disease-fighting substance that aids in the rejuvenation of cells by carrying oxygen to where it is needed most. Wheatgrass is considered a "superfood" by many medical practitioners who find the grass to possess greater nutrient density, or more nutrients in the same amount of space as other food sources. To join the bandwagon of health benefits wheatgrass supplies, add a tbsp. of hard red winter wheat to 8 oz. of cool water for an earthy blend of tea.
Anti-Inflammatory
In a recent article published by Oprah.com, Dr. Nicolas Perricone states that the gluco-protein P4D1 found in wheatgrass acts as a potent antioxidant that reduces inflammation. According to Perricone, inflammation is the main contributor of aging and age-related diseases such as wrinkled and sagging skin, heart disease, diabetes, Alzheimer's and arthritis. The ingestion of toxins and UV rays, a weakened immune system, stress and high carbohydrate diet are all inflammatory triggers that wheatgrass helps to inhibit.
Disease Preventative
The chlorophyll found in wheatgrass is responsible for the emerald hue of the plant where its disease fighting components dwell. The amount of chlorophyll in wheatgrass declines with age, but works in repelling bacteria while in its prime. According to research conducted by Brown and Purdue Universities and published in the "Nutrition Research" journal, the chlorophyll found in wheatgrass also works as an anti-cancer agent by inhibiting the mutation of cells, changes in DNA and ultimately activating cell death to cancer cells.
Energy Producer
Wheatgrass aids in energy production through the addition of amino acids, the building blocks of protein. As protein is a major component of the skin, muscles, organs and glands and found in every cell of the body, the role of amino acids in protein production is highly significant. According to research published by Cambridge University Press in 2007, this is due to an overload of protein in Western diets that overpowers amino acid production resulting in excess energy.