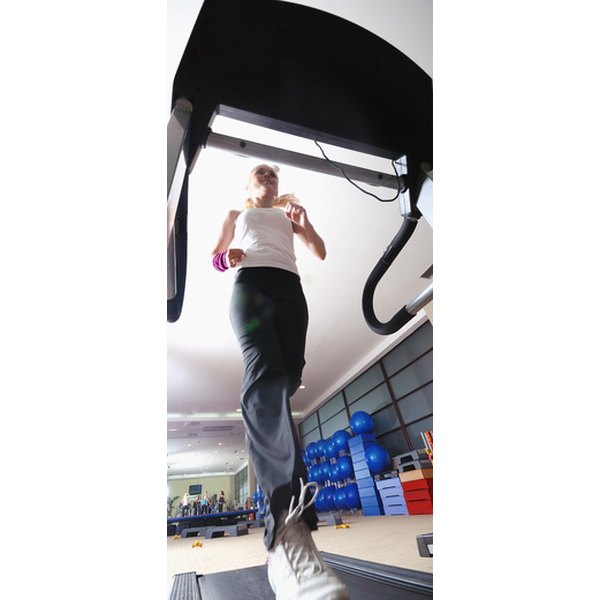 The Life Fitness 8500 treadmill is an older model manufactured by Life Fitness in the 1990s. It has numerous patented features to prolong treadmill life and a comprehensive warranty. You can find used or refurbished models online.
Specifications
The Life Fitness 610T features a 2.5 HP DC motor and can run at speeds between 1 and 10 mph. Speeds can be adjusted at 0.1-mph increments. The incline can go from 0 to 15 percent and settings can be adjusted in 0.5-percent increments. The running deck measures 18-by-58 inches and has a patented FlexDeck® shock-absorption system that claims to reduce impact on knees, hips and back by up to 30 percent.
Features
The Live Fitness 8500 has a self-diagnostic maintenance system. There is also an automatic wax lubrication system that waxes the deck on a regular basis to reduce friction. There are six different workout programs including hill, manual, random, Fit Test, 30-minute walk and three-mile jog. There is an interactive "Heart Rate Zone Training" setting that allows you to keep your heart-rate within a desired zone and includes a chest strap which monitors your heart rate. The machine is designed for users up to 275 pounds.
Screen
The display provides readouts for speed, time, distance, incline, calories, watts and METS (metabolic equivalents of task, essentially a measurement of your body's metabolic rate).
Warranty
New Life Fitness treadmills come with warranties that vary by model as of 2010. There is a lifetime warranty on the frame and shock absorbers. The motors have a warranty that can range from 15 years to lifetime. There is also a three- to 10-year warranty on electrical and mechanical parts and a one-year warranty on labor. Refurbished Life Fitness 8500 treadmills may also come with a warranty, usually offered by the supplier or reseller.
Cost
The original cost of these machines was approximately $4,300, but you can now find them online for about $1,300 as of 2010.