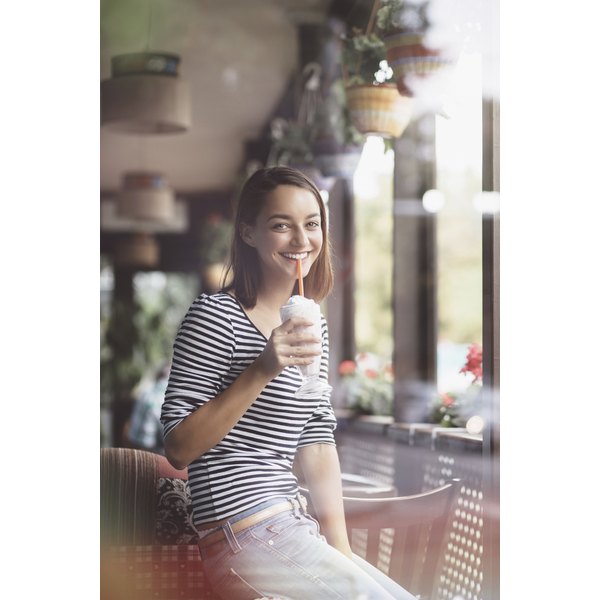 Slim-Fast is a line of meal replacement products, manufactured by Unilever. These products are designed to provide nutrition in the form of a fortified beverage. According to Slim-Fast.com, when used to replace two meals, these beverages help encourage weight loss. These ready-to-drink beverages fit the criteria for a light meal replacement, are vitamin- and mineral-fortified and rich in fiber. While real, whole foods are always the best option, Slim-Fast shakes may be beneficial for helping you control your caloric intake to lose weight.
Meets Light Meal Criteria
Slim-Fast shakes are designed to be used as a snack or a light meal replacement, to encourage weight loss. In order to meet these goals, these ready-to-drink beverages should be calorie-controlled but offer a balance of carbohydrates, protein and fat for optimum nutrition as well as an appreciable amount of dietary fiber for optimum satiety. According to Bodybuildingforyou.com, the best light meal replacement shakes offer about 200 calories and, on average, 20g protein. All the Slim-Fast shakes provide 180 to 190 calories per serving and vary in protein content from 10 to 20g.
Rich in Micronutrients
Slim-Fast shakes are fortified with 23 essential vitamins and minerals which enhance its nutritive value. On average, one serving meets 30 percent of the Recommended Daily Value or DV for most of these nutrients. It is particularly rich in the antioxidant nutrients; vitamins E and C, as well as calcium and phosphorus, meeting 50 percent to 100 percent of the DV for each. Because Slim-Fast is milk-based, it is rich in nutrients naturally found in milk, such as calcium, vitamins D, A, B2 and potassium. Other vitamins and minerals added to this product are in synthetic form. Some synthetic nutrients, such as folic acid, are better absorbed than in natural form.
Convenient and Portable
Eating something is always better than skipping a meal. Skipping meals may cause dips in blood sugar, low energy levels and encourage binging later in the day. In addition, according to the BBC, skipping meals may cause other health risks. Convenient, portable and non-perishable protein drinks, such as Slim-Fast, are an easy option for those short on time, or who may otherwise skip a meal altogether. They provide a concentrated source of macronutrients, such as protein. Although high-quality protein is available from many whole foods, such as dairy products and meat, these foods are perishable and may not be as convenient. Ready-to-drink shakes can be thrown in a purse or gym bag for later consumption. In addition to high-quality protein, Slim-Fast is a ready source of energizing carbohydrates and is low in fat.