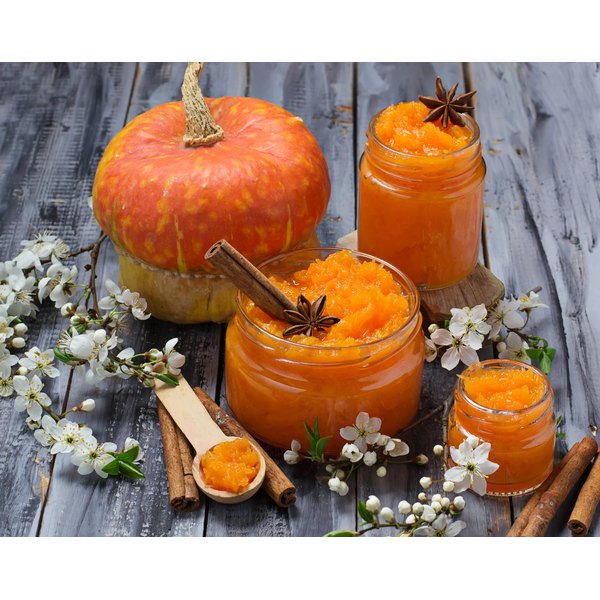 Using canned pumpkin instead of the fresh variety in recipes provides a more convenient way to enjoy this healthful vegetable. According to the Kansas State University Research and Extension Service, pumpkin is an excellent source of beta-carotene, or vitamin A, and canned pumpkin contains even more of the essential vitamin than fresh pumpkin. In addition, canned pumpkin also has a strong, concentrated flavor, and its thick texture creates a smooth, dependable consistency in most recipes. In most cases, canned pumpkin and fresh pumpkin can be used interchangeably.
Use the same amount of canned pumpkin as fresh pumpkin required in recipes. If your recipe calls for 2 cups of fresh pureed pumpkin, for example, use 2 cups of canned pumpkin instead, or the contents of a 16-oz. can.

Measure the canned pumpkin carefully to prevent inconsistencies in the recipe. Scoop the pumpkin out of the can, place into a measuring cup, and pack down firmly with the back of a spoon. Level off with a knife, if necessary.

Add the measured canned pumpkin to the recipe, following the instructions just as you would for fresh pureed pumpkin. Continue with the recipe as directed.

Tip

Because canned pumpkin is very thick, it cannot be accurately measured in measuring cups designed for liquid ingredients. Always use dry measuring cups, the kind that nest into one another and come in 1-cup, 1/2-cup and 1/4-cup sizes, to measure canned pumpkin properly.

NetWellness, a health information service of the University of Cincinnati, recommends choosing a salt-free version of canned pumpkin, especially if you're on a low-sodium diet. With added salt, canned pumpkin contains almost 300 mg sodium in each 1/2-cup serving. Fresh pumpkin does not contain salt, so you will not lose any of the flavor intended by the recipe this way.

Warnings

Do not use pumpkin pie filling as a substitute for fresh pumpkin, because it is already heavily spiced. Use plain, packed, canned pumpkin, sometimes sold as pumpkin puree, for the best results, especially in savory recipes.