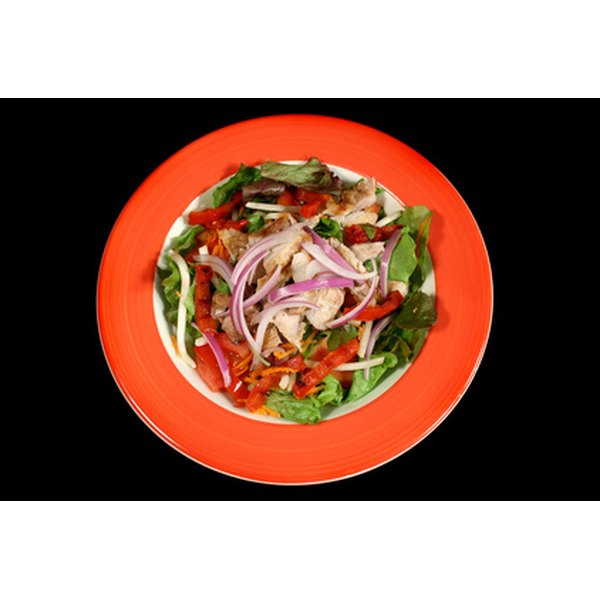 Every day, 1 in 4 Americans is eating fast food, according to the website HelpGuide.org. One fast food meal can easily meet a day's worth of calories, but it doesn't have to. With careful planning and knowledge of healthful eating, you can find low-calorie foods at a fast food restaurant.
McDonalds
When it comes to eating low-calorie at fast food restaurants, go for grilled items and ask to hold the sauces, says the dietitian website RD411. McDonald's offers a variety of low-calorie items to help you stay within your calorie goal. A low-calorie breakfast item is the Egg McMuffin with only 300 calories, according to Healthy Dining Finder. Although a kid's meal, the McDonald's Happy Meal is a good choice for the adult looking to save calories. A Happy Meal with a hamburger, apple dippers and low-fat milk has 460 calories. Other low-calorie choices include the grilled Ranch Snack Wrap with 270 calories and the Chipotle BBQ Snack Wrap with 260 calories.
Panda Express
When looking at a fast food menu, avoid foods described as deep fried, batter-dipped or crispy. Instead, choose items made with lean sources of protein and vegetables, suggests HelpGuide.org. Panda Express offers a number of low-calorie choices made with lean proteins and vegetables. A serving of Kung Pao Shrimp and mixed vegetables contains 300 calories, according to the Healthy Dining Finder. A serving of black pepper chicken and mixed vegetables has 270 calories. Both the Egg Flower and Hot and Sour soup are good low-calorie choices each with only 90 calories a serving.
Quiznos
Don't drink your calories with your fast food meal, says HelpGuide.org--instead, order water with your meal. Quiznos is a fast food sandwich restaurant offering a number of low-calorie items to fit your diet. A small Baja Chicken sub with bacon, chipotle mayonnaise, Baja sauce and cilantro served on a whole-wheat roll contains 480 calories, according to the Healthy Dining Finder. The Tuscan Turkey sub with Swiss cheese, lettuce, tomato, onion and roasted red pepper sauce on a small whole-wheat roll has 400 calories. The Traditional Sub Special with turkey, ham, roast beef, cheddar cheese, black olives, lettuce, tomato, red onion and reduced fat Buttermilk Ranch served on a small whole-wheat roll has only 360 calories.