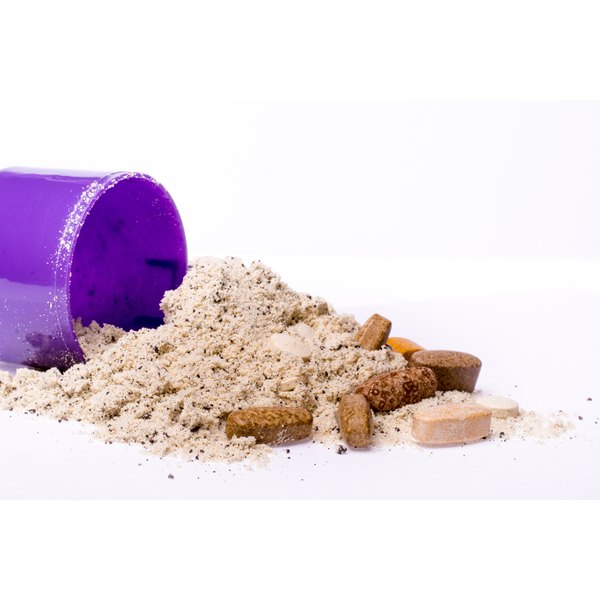 Amino acids are the building blocks of protein and protein is the macronutrient responsible for muscle building and recovery. Optimum Nutrition 100 percent whey protein is used as a supplement to deliver muscles the added protein they need for fast gains. When it comes to taking this protein powder, you have several different options.
Start your day with a healthy breakfast. Eating breakfast will give you more energy and reduce your hunger the rest of the day according to the Mayo Clinic website. Slice up a fresh banana and place it in a bowl with a cup of berries, chopped up walnuts and a scoop of whey protein powder. Mash the ingredients together with a spoon or fork until they form a thick consistency and eat before leaving for work. Use an unflavored powder for this meal.

Mix the powder in with a cup of yogurt for a mid-morning snack. Place the yogurt in a bowl and add a scoop of vanilla protein powder, sunflower seeds, blueberries and a pinch of cinnamon. Blend the ingredients thoroughly with a spoon and eat it.

Take a shaker cup on the road to mix up a shake when you are in need of a snack. Place a serving of whey in the shaker, and put it in a cooler with a bottle of ice cold water or low-fat milk. Put ice packs in your cooler to keep your liquid cold. Take out the shaker, unscrew the lid and pour in your liquid. Secure the lid tightly and shake up the ingredients forcefully for about one minute. Flip open the spout cap and drink your shake.

Mix up a high-calorie afternoon smoothie if you are trying to bulk up. Pour 16 oz. of chocolate soy milk into a blender pitcher. Add 2 tbsp. of almond butter, one chopped up frozen banana and one scoop of chocolate whey. Snap the lid on tightly and turn on the blender. Let it blend until the ingredients have an even consistency, then open the lid and add three ice cubes one at a time. This will make it colder and thicker. Stop the blender once the ingredients are smooth and drink.

Finish your last set of reps at the gym and mix up a post-workout shake in your shaker cup. Add whey protein powder, dextrose powder, creatine and ice cold water, milk or juice to your shaker. Snap the lid on tightly, shake it up until it is consistent and drink it as soon as you are done exercising.

Tip

Drinking a post-workout shake with dextrose, creatine and whey will quickly put back used-up carbohydrates and also start the muscle recovery process.