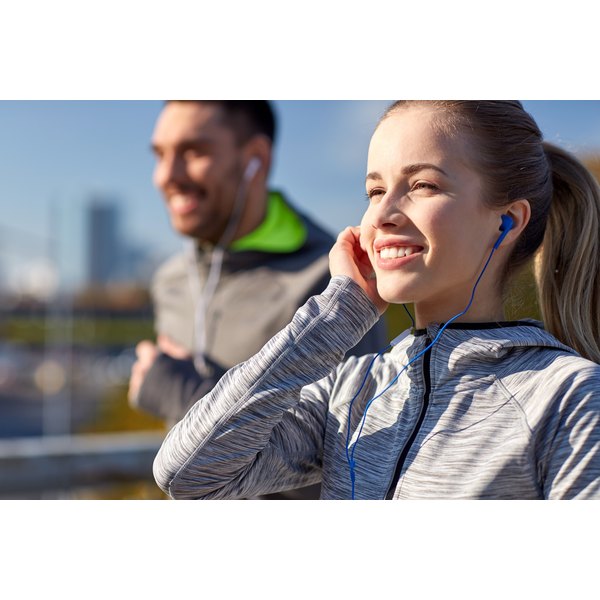 What to Look For
Locate headphones that have over-ear headphones or in-ear buds that fit your ears and are sturdy enough to withstand constant vibrations from jogging. Some headphones have a clip on their lines to allow easy fastening to a lapel, pocket or backpack. This convenient feature makes the headphones hard to lose while jogging. Water-resistant headphones are also a good bet since sweat could cause electrical shortages over time. Always find a headphone that offers a pronounced tuning dial to change stations while jogging and has a AM/FM reception indicator light.
Common Pitfalls
Some headphones are made with one ear size in most cases, therefore the headphones may become a nuisance due to constant slippage while jogging. The type of adapter made for the headphone may not fit your particular MP3 player, IPod or other sound device if you locate a radio headphone that also doubles as a sound player for other devices. Also the quality of the sounds emitting from the headphone may not have a clear quality as compared to headphones made for home use only.
Where to Buy
Headphones for jogging are best located within stores such as Radio Shack, Best Buy, Micro Center or other stores that have a higher selection of musical and some electrical supplies. Best Buy is known for having an actual sound department where the customer can physically listen to the headphones and determine the quality and prices before purchasing. Radio Shack's selection is more varied than the average electrical outlet, however the headphone selection is geared towards home use rather than actual exercising.
Cost
Costs abound when it comes to headphones, however most sell for $20 to more than $500. A decent brand to look for consistently is the Sony brand of headphones which have clear sound quality, noise canceling features, preset radio stations and usually can be found for a fair price at any retail outlet.