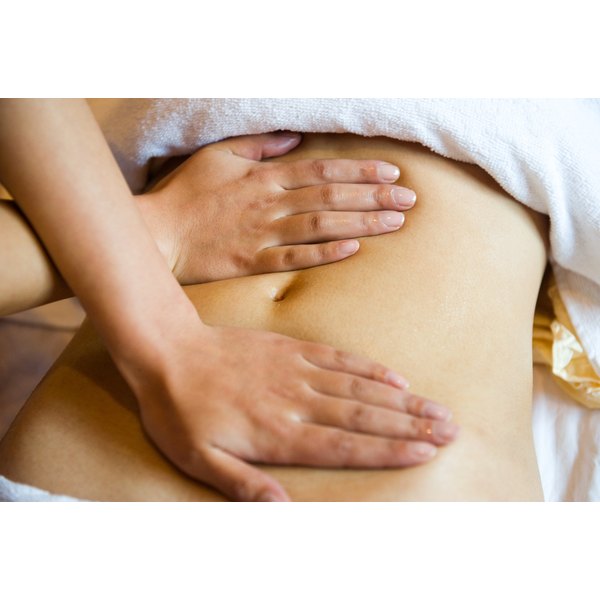 Abdominal scars left behind by any trauma will never go away completely, but there are ways to minimize their appearance. Sometimes scar tissue grows beyond the original site and forms adhesions, which are fibrous bands that form between tissues, all around the area; this is called a hypertrophic scar. Utilizing massage therapy may reduce the adhesions that form and prevent them from extending into the abdominal cavity. These adhesions can cause dimpling in the skin or thicken and cause problems in the underlying tissues.
Function
A scar is growth of new tissue that lacks pigmentation and hair follicles. It binds damaged skin back together. One of the dangers of scar tissue is an adhesion, and, according to Dr. Dharmanda of the Institute of Internal Medicine, adhesions occur almost always after an abdominal surgery in the peritoneum, which is the cavity that includes the pelvis and abdomen. Massage therapy may reduce these adhesions by increasing circulation and breaking them down, aiding in healing of the scar tissue.
Self Massage
Depending on the size of the abdominal scar, you can use all of your forefingers or one. You can use a lubricant such as vitamin E oil or a hypoallergenic lotion or work on dry skin. Work your fingers gently in a small circular motion around the surrounding area of the scar about 1 inch in diameter. Scars are superficial, so not a lot of pressure is needed. Eventually work your way directly on top of the scar. As long as there is no pain at all, lightly move the scar straight back and forth and in a clockwise and counter-clockwise rotation. This is a very subtle movement and should not be done forcefully.
Significance
Massaging your abdominal scar may be an important factor in your healing time. Working around the areas of an abdominal scar will keep the skin supple and break down any adhesions that may be forming. With old abdominal scars, this may help get the circulation back and break down old adhesions.
Reduction
Minimizing scars can be a daunting process, depending on the extent of the tissue damage. There are several different approaches. Some are done in a medical office and include laser resurfacing, chemical peels and dermabrasion. A few scar remedies are available to be done at home with topical ointments along with massage.
Warnings
As with any scar, during the first stages of healing, you don't want to disrupt the process. In order to heal properly, have patience. Do not massage a scar if there is any redness or inflammation around it; this is called the acute stage. If you massage the scar at this point you may open the wound and invite infection. When this stage has passed, then you may massage the surrounding areas and help the healing process.