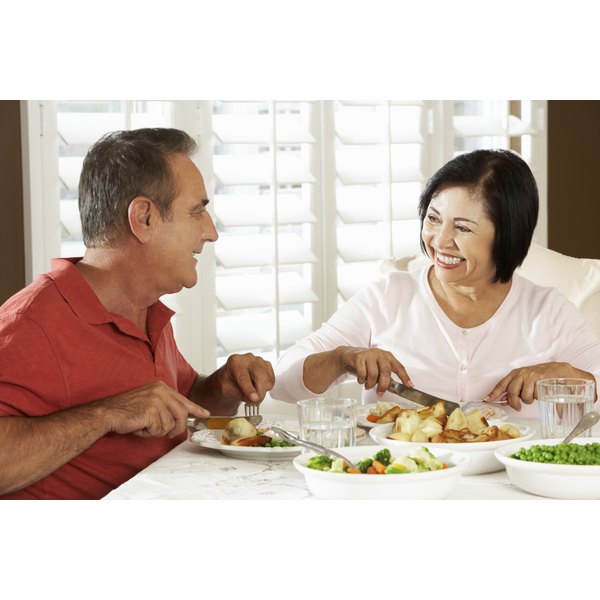 A balanced diet for persons 40 to 50 years of age consists of a combination of healthful foods from every major food group. Dietary needs vary based on your calorie requirements and activity level. Balanced nutrition depends on variety in your diet, proper portion sizes and healthful selections. Planning your meals for the week helps you incorporate balance and variety into your diet.
Guidelines
The U.S. Department of Agriculture bases dietary recommendations on the current Dietary Guidelines for Americans, published jointly with the Department of Health and Human Services every five years. The guidelines are incorporated into the food guide pyramid published by the USDA, which provides dietary recommendations for persons over 2 years of age, according to its website. Although the USDA makes additional dietary recommendations for persons over 50 years of age, the general guidelines apply to those in the 40 to 50 year age group.
Features
A balanced diet for 40 to 50 year olds includes a variety of fruits and vegetables, whole grains, low-fat dairy and lean proteins, according to the USDA. Other recommendations include choosing foods low in cholesterol, saturated and trans fats, salt and added sugars. When selecting fruits and vegetables, opt for variety in texture and color. Include leafy green vegetables such as broccoli, collard greens, spinach and bok choy in your diet daily.
Energy Balance
To maintain energy balance, your diet should meet but not exceed your calorie needs based on your age and activity level. The Dietary Guidelines for Americans 2005 recommends that women 40 to 50 years of age who live a sedentary lifestyle get 1,800 calories daily. Moderately active women should aim for 2,000 calories, while active women need 2,200.
Men in this age group with inactive lifestyles need 2,200 calories daily, while moderately active men need 2,400 to 2,600 and active men require 2,800 to 3,000.
Benefits
Eating proper quantities of the right foods will keep you energized and promote an active lifestyle. A balanced diet leads to improved health and a healthier weight. Good nutrition improves cardiovascular function and mental health, and promotes recovery from sickness or injury, according to the National Institute of Child Health and Human Development. Other benefits include improved immunity and reduced risk for heart disease, stroke, diabetes, osteoporosis and some types of cancer, adds the institute.
Significance
A balanced diet functions to supply adequate nutrition based on daily needs. Adults need to include sources of calcium, magnesium, potassium, fiber and vitamins A, C and E in their diets daily, according to the Dietary Guidelines for Americans 2005. The guidelines list food sources of these important nutrients on its website, including substitutions for vegetarians and for those with food allergies.