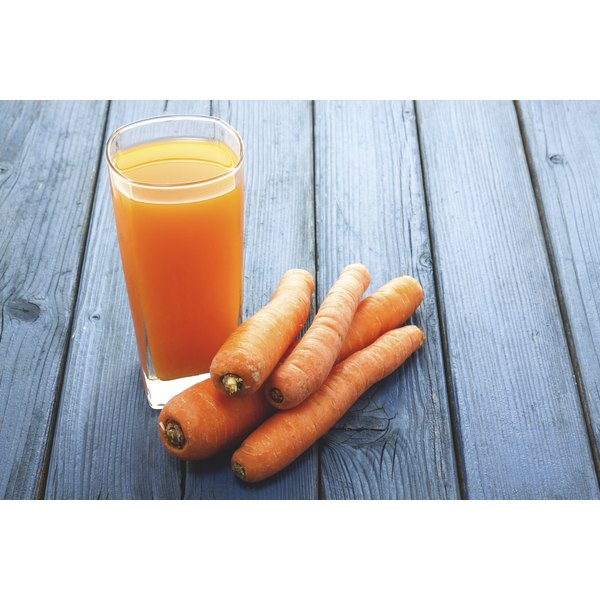 The body depends on its organs to eliminate waste products and toxins to maintain normal, healthy body functions. Cleansing the organs will help in promoting their optimum functions. Juices such as beet, carrot and lemon are some of the best natural juices to help in cleansing and detoxifying the body. These juices are also rich in nutrients and they provide various health benefits.
Beet Juice
Beet is a nutritious, high-fiber vegetable packed with vitamins A and C, folic acid and biotin as well as phosphorus, magnesium, potassium, calcium and iron. The high-fiber content of beets helps to stimulate the gastrointestinal tract and promotes the proper cleansing and elimination of the colon. According to Total Cleanse Guide, beet also contains glycine betaine, a detoxifying chemical agent that stimulates and protects the bile duct and the liver cells. Beet juice is a nutritious, healthy drink that will detoxify and cleanse the body.
Carrot Juice
Carrots contain vitamins B, C, D, E and K along with a rich supply of minerals, including calcium, potassium, iron and zinc. It also contains more beta-carotene than any other vegetable. Beta-carotene is converted into vitamin A; a fat soluble vitamin that's associated with cleansing of the liver. Drinking carrot juice regularly will help to cleanse the liver of fats and other unnecessary toxins, according to Guide2 Herbal Remedies. Carrot juice also promotes proper functioning of the eyes, enhances the immune system and its high-fiber content helps to promote the stimulation, proper cleansing and elimination of the gastro-intestinal tract.
Lemon Juice
Lemons are a common household fruit that are used to make refreshing lemonade; a squirt of lemon adds zip to a salad and a tangy taste to fish. Lemon has many other benefits, one of which is its cleansing effects that help to detoxify and cleanse the body and support proper liver functions, according to Guide2 Herbal Remedies. Lemons are a rich source of vitamin C; a powerful antioxidant that fights free radicals and helps to boost the immune system.