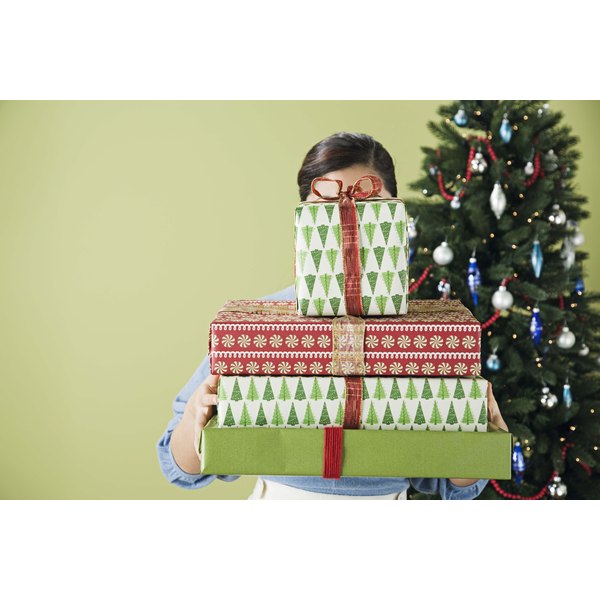 It's the season of giving. As the holidays approach, many people look for ways to help the needy. There are food drives, school fundraisers and end-of-year donation solicitations galore, and it can be hard to decide where to direct your generosity. A fun and easy way to help low-income children in your area is to buy Christmas gifts for them. Many kids would not get any gifts on Christmas morning if it weren't for the support of their community.
Find a program in your area that helps distribute toys to low-income children during the holidays. Some popular programs that operate across the U.S. include Toys for Tots and Salvation Army's Adopt a Family. Similar programs may exist in your area at a local level; contact area churches, volunteer centers and charities for more information.

Determine which donation program is right for you based on the amount of time and money you want to invest. Programs such as Toys for Tots allow you to drop off a new toy geared toward any age level of your choosing, while Adopt a Family-style programs contain guidelines and wish lists for specific children based on their gender, ages and preferences. Some programs, such as the Salvation Army's, also ask you to provide food for a holiday meal and gifts for parents.

Go shopping. If you're adopting a family, follow the instructions provided and use the information given about each child to find an appropriate gift. Stay within your budget, but don't be cheap; if you wouldn't give it to your own child or another child you know, don't choose it for a donation.

Drop off the gifts at the donation site. Find out in advance whether the program prefers them wrapped or unwrapped. If you are asked to wrap the gifts yourself, consider a professional wrapping service if your gift-wrapping skills are not up to par. Many retailers will wrap items from their store for free during the holidays.

Warnings

Make sure the charity you're helping is legitimate. Stick to well-known national and local groups that have a good reputation in your community.