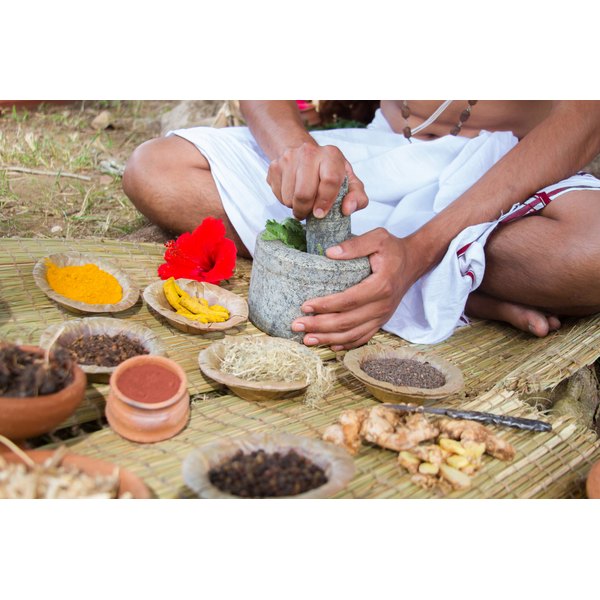 Male sexual enhancers can be classified in different ways. One way is to distinguish between synthetic remedies such as Viagra, and natural remedies. Another way is to classify sexual enhancers by function--some enhancers are effective against erectile dysfunction but do not enhance sexual desire, while others are effective against erectile dysfunction and act as aphrodisiacs at the same time.
Ginseng
Ginseng root is a tonic, meaning that its benefits accrue gradually. It is also considered adaptogenic, meaning that it may increase resistance to stress, trauma, fatigue and anxiety. It increases overall vitality and sexual performance, according to research conducted by E. Nocerino, M. Amato M and A.A. Izzo of the University of Naples. Although this study concluded that ginseng is safe if used correctly, improper usage can result in high blood pressure, diarrhea, restlessness, vaginal bleeding and pain in the breast or mammary gland.
Ayurvedic Herbs
Ayurvedic herbs refer to a class of herbal remedies that have been used in India for thousands of years. A study using rats as subjects suggests that some of these herbs are effective against erectile dysfunction while at the same time increasing sexual desire, according to a study conducted by M. Thakur, N.S. Chauhan, S. Bhargava and V.K. Dixit at Dr. H. S. Gour University in Sagar, India. Although Ayurvedic herbs in their pure form present no particular health concerns for adults, the U.S. Food and Drug Administration has warned that some Ayurveda products contain potentially harmful heavy metals.
Oysters
A team of American and Italian researchers led by George Fisher, professor of chemistry at Barry University and Raul Mirza and Antimo D'Aniello of the Laboratory of Neurobiology in Naples, reported at the 2005 meeting of the American Chemical Society that oysters are effective against erectile dysfunction and act as potent aphrodisiacs because they contain rare amino acids that trigger increased levels of sex hormones. Although they are most effective when eaten raw, oysters sometimes contain the Vibrio parahaemolyticus bacteria, which can cause gastrointestinal illness, according to San Diego physician Wilma Wooten. Gastrointestinal illness can be particularly dangerous to people with weakened immune systems. (please see Reference 6)
Yohimbe
Yohimbe is a chemical found in the bark of the Pausinystalia yohimbe tree. Yohimbine hydrochloride is available by prescription in the United States to treat erectile dysfunction, according to the Mayo Clinic. (please see Reference 7). The US National Institutes of Health report that It has been used to alleviate the sexual side effects of certain antidepressants . (Please see Reference 5) Yohimbe has not been shown to increase sexual desire in men. Yohimbine hydrochloride has been associated with side effects such as rash, flushing, breathing difficulty, cough, runny nose, nausea, vomiting and other symptoms; however, these symptoms usually do not occur if taken in recommended doses.